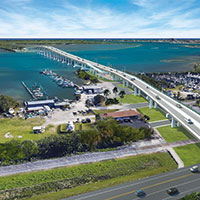 New bridge off south island will be one of tallest in state
STORY BY GEORGE ANDREASSI (Week of February 4, 2021)

Starting next January, island residents heading south on A1A can expect four years of construction chaos when crossing to the mainland in Fort Pierce as the Florida Department of Transportation replaces the deteriorating 58-year-old drawbridge.  Plans call for a new two-lane fixed bridge to be built stretching three quarters of a mile across the Indian River Lagoon with an 85-foot-high clearance above the Intracoastal Waterway navigation channel.
"It's going to be one of the tallest bridges on the East Coast of Florida," said Peter Buchwald, executive director of the St. Lucie Transportation Planning Organization.
Approximately 8,100 vehicles per day will continue using the 2,100-foot-long drawbridge while the new bridge is being constructed to the north. Marine traffic will also be maintained.
FDOT held a virtual public information workshop on Jan. 27 to discuss the details of the $79 million project, which previously had been set to get under construction last fall.
The project is needed because an inspection found structural deficiencies in the drawbridge and the span is considered obsolete. Preliminary work on the replacement project started in 2014.
Once the new high-rise span is completed in 2026, motorists traveling to and from North Hutchinson Island will no longer have to worry about delays caused by sailboats with tall masts and other large vessels passing through the drawbridge.
The new span will also rise above the Florida East Coast Railway tracks, so motorists will no longer be inconvenienced by passing trains, records show. The tracks are being upgraded to handle Brightline high-speed passenger trains.
While State Road A1A will remain two lanes across the new bridge, the project includes several special features, including a 300-foot-long observation deck on the south side overlooking the Harbortown Marina and Port of Fort Pierce.
The 12-foot-wide eastbound and westbound travel lanes will both have 8-foot-wide buffered bicycle lanes, FDOT records show.
There will also be an 8-foot-wide sidewalk on the south side and a shared-use path on the north side that will serve as a link in the East Coast Greenway.
Construction is set to begin on the west side of the span with improvements to U.S. 1 and Dixie Highway. A new access road will be constructed to the Harbortown Marina, records show.
The new bridge will be built just north of the old bridge. Once the high-rise bridge is complete and traffic is shifted to the new roadway, the drawbridge will be demolished.
FDOT expects to complete the plans for the project by June and award the construction contract in October, so work can begin in January 2022.