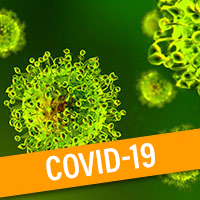 New COVID cases trend downward, but less on island
STORY BY LISA ZAHNER (Week of February 11, 2021)

As Indian River County surpassed the 10,000 COVID-19 case mark last weekend, the number of new cases here is steadily declining, but new infections on the barrier island held at near record highs.
For the first week since Christmas, the countywide case numbers were lower than reports seen during the "summer surge" in July, with the average daily new cases dropping to 47, down from a high of more than 120 cases per day in January.
Thirty-four 32963 residents tested positive for the coronavirus this week, accounting for 10 percent of the county's new cases. That's down just slightly from the record high of 38 island cases in one week. A total of 654 island residents have reportedly been infected, according to the Florida Department of Health COVID-19 dashboard.
A total of 244 Indian River County residents have died from complications of COVID-19 since March. Deaths remained fairly high this week with 17 new deaths reported in the seven days leading up to Monday press time – not a total surprise after current hospitalization numbers in January frequently reached the high 40s and even into the 50s.
This past week the current daily hospitalization number has held steady in the mid to high 20s.
Intensive-care unit beds are still dear, however, with the availability of those beds ranging from 5 percent to about 30 percent this week, ending up on Monday afternoon with 20 percent of ICU beds available. This number would be even worse, but Sebastian River Medical Center is still transferring all of its COVID-19 cases up to its parent company Steward Health's hospital in Rockledge, according to hospital staff.
With the addition of Publix pharmacies to the vaccine distribution program, another nearly 4,000 people were vaccinated over the past week, raising the total number of people who have received at least one dose of either the Pfizer or Moderna vaccine to 22,908. Nearly 5,200 people have now completed their two-shot regimen. A full 85 percent of the people vaccinated in Indian River County are age 65 or older.
As of this week, one in five Indian River County residents has either received at least one dose of vaccine or has recovered from the COVID-19 virus in recent months.
Florida's weekly allotment of vaccine will go up next week to 330,000 doses from 307,000 doses this week, so the number of doses administered should continue to rise into February. Then by the end of the month, the U.S. Food and Drug Administration will consider the Emergency Use Authorization of the one-shot Johnson and Johnson/Janssen vaccine, which only needs normal refrigeration.
It's estimated that between 1 million and 10 million doses of that new vaccine will be ready to ship upon FDA approval, hopefully boosting local vaccination efforts.
Gov. Ron DeSantis on Monday complained that the FDA approval process on the Johnson and Johnson vaccine is taking too long, as the vaccine makers submitted all their data last week and the meeting to consider authorization won't take place until Feb. 26, leaving three weeks of time in between.
The Pfizer and Moderna approvals were handled much more swiftly, he said, despite the fact that those two vaccines were of a totally new type. With vaccination infrastructure now ramped up to handle more supply, and more than one virus variant spreading in Florida, DeSantis said he was "disappointed" and "perplexed," and called for more urgency.
Clinical trials showed that the one-shot Johnson and Johnson/Janssen vaccine is 66 percent effective against infection, but 28 days post-vaccination, it has been shown to be 100 percent effective in preventing death and hospitalization due to severe illness, DeSantis said.
The priority in Florida is still on vaccinating everyone age 65 and older and long-term care facility residents, plus frontline healthcare workers and first responders like paramedics and EMTs.
Hospitals also have the discretion to begin offering shots to their most medically vulnerable patients under age 65. "Our view is still seniors first. We won't rest until every senior that wants a shot gets a shot," DeSantis said.
No statewide plans have been announced yet to expand vaccinations to groups of people under 65, though schoolteachers have been one group mentioned that should be included in the next phase, as COVID-19 continues to spread through local schools.
In Indian River County, the school district began vaccinating vulnerable staff members last week. Approximately 68 vaccinations were administered Saturday to employees 65 and older, as well as school nurses and health aides at the Gifford Health Center in concert with the state Health Department and Treasure Coast Community Health.