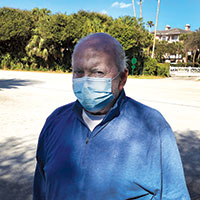 Orchid Island Golf &Beach Club's A1A tunnel idea not hit with all
STORY BY GEORGE ANDREASSI (Week of February 11, 2021)
Photo: Longtime Orchid Island homeowner, Joe Scherpf.

Some members of The Orchid Island Golf & Beach Club Community Association are up in arms over the idea of the property owners group spending $2 million to build a tunnel beneath State Road A1A to provide safer golf cart, bicycle and pedestrian access to the beach and clubhouse.
"There's no need for it," said longtime Orchid Island homeowner, Joe Scherpf. "Everyone I talk to is against it, including several members of the community association board itself."
But other members are in favor of the project, which is being considered by the board.
The tunnel would be an alternative to a crosswalk warning signal the north island country club community has petitioned for without success. The plea for a warning signal at Orchid Island Way and A1A to make crossing the highway safer has been rejected by the Florida Department of Transportation because there is not enough traffic.
A preliminary cost estimate for the tunnel listed $1.5 million for a waterproof precast culvert, $170,000 for engineering and Geotech services, and $330,000 for utilities relocation, foundation stabilization and water removal, according to a Jan. 19 newsletter.
A financial plan is being formulated to determine if the project can be completed without levying a special assessment on the community's 376 property owners, the newsletter says.
"We've been in contact with FDOT for several years trying to negotiate a traffic light that we would be happy to pay for," said club General Manager Rob Tench. "But they said that's not a possibility.
"So, someone brought up the idea of a tunnel at a meeting," Tench said. "And the board said they would look into it."
Traffic safety on A1A where many cars travel at 60 miles an hour or faster is a major issue for Orchid Island, just like nearby communities, Tench added.
The Windsor Club just to the north and Disney's Vero Beach Resort just to the south already have tunnels beneath A1A, and Sea Oaks Beach & Tennis Club and the John's Island Club have safety signals.
It's the relative lack of traffic and the absence of accidents at A1A and Orchid Island Way that apparently doomed the proposed safety signal, said Orchid Town Manager Noah Powers.
Adolfo Prieto, a bike and pedestrian safety specialist with FDOT, told Powers on March 16, 2020: "The signal is not warranted and thus cannot be installed by the Department or through a permit."
But Powers said the community association has not yet contacted him about the proposed A1A tunnel.
Scherpf, said he opposes the proposed A1A tunnel, which would cost roughly $5,320 per property owner, because he considers it "a complete waste of money."
"The $2 million would be borne by the property owners of Orchid," Scherpf said. "I think it is a terrible price to pay. The $2 million price tag could grow to $3 million, or $4 million."
Traffic is relatively sparse on A1A and homeowners can simply look both ways before crossing, Scherpf said.
Another homeowner opposing the proposed tunnel project is Earl Bell, who crosses A1A at Orchid Island Way every day on his way to the beach to jog.
"To me, it's a very expensive solution in search of a problem," Bell said Monday. "Really, I don't see it in any way as a dangerous intersection."
"Most people can cross the road safely," Bell said. "The sight lines are very good. There is no problem with seeing oncoming traffic in either direction. You can see easily traffic for a mile each way."
A tunnel would be expensive to build and would require security measures, such as video surveillance cameras, Bell said.
The security guards at the gated community could be summoned to the crosswalk to assist pedestrians who are leery of crossing A1A, Bell said.
But other homeowners said they want to pursue the possibility of building a tunnel beneath A1A.
Cas Skrzypczak, a former community association president, said he generally favors the proposed tunnel. "$2 million is a lot of money, but on the other hand it would be nice to have a tunnel," he said.
"If you're careful it's not dangerous. The trouble is the cars are speeding along there. They're going like 60 mph. They come upon you pretty quickly."
"I'm in favor of it," said Tait Johnson, a member of the community association board. "I think it's necessary. It's very much a safety issue."
The project is not a done deal, however, Johnson said. "We still have to go through discussions and make sure we have a consensus to go ahead and do it."