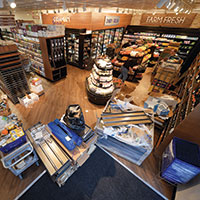 Renovated Village Beach Market back at last
STORY BY RAY MCNULTY (Week of February 18, 2021)

By the time you read this story, the Village Beach Market should be open for business again after a six-month, nearly $4 million renovation that included a complete interior remodel intended to make the popular island market more open, attractive and modern inside.
Closed since mid-August, the boutique grocery store and deli was scheduled to reopen Wednesday, though owner Jason Keen said last weekend the store still needed to "get past a couple of inspections" from the county Building Department on Monday and Tuesday.
"We're about 95 percent done, and we're working frantically to make sure we're ready," Keen said. "We'll finish stocking the shelves Tuesday and, barring any unforeseen issues, we'll open our doors Wednesday.
"We can't wait to be open again," he added. "We've been closed way too long."
Keen said he initially expected the "complete remodel" to be done by early October, but the project was bogged down by COVID-connected permitting, construction and equipment-delivery delays.
Those delays, he said, not only pushed back the store's reopening, but bumped the project's price tag to more than $3 million – including construction costs, lost revenue and payroll.
"The cost of the construction project is up to $3 million, and our lost revenue is in the neighborhood of $750,000," Keen said. "We lost about half of our employees, mostly through layoffs, but we tried to keep as many as we could on payroll, which added to our costs.
"So, we're getting close to $4 million," he added. "That's about $500,000 more than we had originally planned."
The first phase of the overall project was an exterior renovation in 2019 that included resurfacing the parking lot and loading zone, improving drainage, installing large underground propane tanks needed to fuel a new generator, adding gas lines to accommodate a planned kitchen expansion, repairing water damage to the structure and crisply re-stuccoing the building's exterior.
The second phase – beginning in August – focused on the store's interior, where Keen said customers returning this week to the renovated market will notice a "brighter, fresher feel with a new layout" that includes a more open and welcoming entry.
Keen said he also "changed the store's format to reflect today's shopping habits" – the market will now offer more fresh foods, such as produce and dairy, and the bakery and deli areas have been expanded.
"We've been allowing customers to come in throughout the process to see what we're doing," Keen said, "and their reactions have been everything from 'Wow!' to 'This is fabulous' to 'We can't wait to see it when it's done.'
"It's been a difficult past six months," he added, "but this needed to be done and we're excited about reopening.
"We'll have been closed from Aug. 17 to Feb. 17, which means we missed Thanksgiving, Christmas and first half of the season," Keen said. "That's difficult for us, because Vero Beach is a very seasonal community, and we rely on making money during the season to carry us through the summer."
Keen said he's hoping seasonal residents and visitors will stay here longer, as they did last year because of the pandemic's impact in the Northeast, and the market can recoup some of the revenue it lost the past six months.
"This year, the Northeast is opening up, so it'll be interesting to see if people will stay or go," Keen said. "We're also seeing a lot of people moving here, so maybe that will help, too.
"The good news is that we're reopening," he added. "Our customers tell us they've missed us, but I can assure you: We've missed them more."