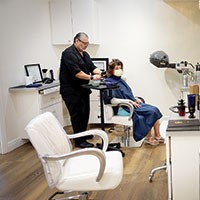 Small businesses doing well in Vero despite pandemic
STORY BY STEPHANIE LABAFF (Week of February 25, 2021)
Photo: Anthony Martinez of Salon Del Mar gives some color to first time snowbird Elaine Jackson, from Rochester, New York, in the Village Shops.

The pandemic has been hard on small businesses, but those in Vero have fared better than in most places and a surprising number of new business are opening.
According to the Indian River County Tax Collector's office, new business permit applications this year are on par with the past several years, with more than 200 already applied for in 2021.
That includes at least four new beachside businesses that have debuted in recent months or are about to open their doors:  a surf shop, a marine art gallery and two salons.
The beachiest of the businesses is Chelsea's Surf Shack, which will open in Portales de Vero on Flamevine next month. Owned by Julia and Chris Simon, the family-run business is named after the couple's 1-year-old daughter Chelsea.
The Simons say their families think they are crazy to be opening a new business in such uncertain times, but they see the store as a step toward financial security.
Chris Simon is an avid surfer and has often lamented the lack of surfing gear available on the island.  And owning a small business isn't new to the couple – Julia is an accountant and Chris is a mobile mechanic. They're looking forward to building this business together.
"Our goal is to provide a wide variety of products that you may not be able to get at other stores here in town," says Julia Simon.  They plan to stock surfboards, paddleboards, boogie boards and skimboards for rent and sale along with name brand beachwear in a wide range of price points.
The biggest hurdle they have run into so far has been getting some of the products they want to stock. Manufacturers are behind, and some vendors are not taking on new accounts because of the uncertainty of the times.
But the couple is finding ways and forging ahead. "We haven't let COVID slow us down at all," Julia Simon says.
Marine artist Steve Diossy took the plunge and opened a gallery on Ocean Drive in November after losing access to his customer base during the initial shutdowns last March.
For the past few years before the pandemic, he traveled around the state showing his work at major boat shows and music festivals, but COVID-19 put an end to that.
"Everything got canceled, so we were scrambling," Diossy says. "We have a website, so we pushed a little bit more on the website. Then we started thinking if we can't go to the shows, then let's try to get people coming to us." 
When a storefront on Ocean Drive came available, he realized he could have the best of both worlds: a place to display his original art that was convenient to both locals and tourists.
"It's not an optimal time to open something new, but it made sense for us," says Diossy, who was seeing the same people visiting Vero Beach that he saw at the boat and music shows. "Vero seems to be drawing in more and more tourists. I thought we would overlap in the same type of crowd."
With his own gallery to display his work, he will save much of the money and time that previously went into travel and setup.
Diossy says he will continue to travel but only to five shows a year versus the 20 he previously attended. He's slated to show at the Palm Beach International Boat Show in March
Meanwhile, two salons have opened beachside, as well.
As a former small business owner, Anthony Martinez thought he was through being his own boss – until COVID-19, that is, which created an opportunity for him. When he learned that Filomena's Day Spa, the salon in the Village Shops where he worked for five years, wasn't reopening, he decided to open his own place.
Martinez says he has been busy since debuting Salon Del Mar in September, starting out small, offering hair and nail care and his hair-loss-control clinic. "Since we are still in this pandemic, I'm keeping things separated and not taking on as much as I probably could. People appreciate not having it too full in a place that is nice and safe and clean."
Janeen Johnson opened the doors at Beach Waves Salon on Beachland Boulevard in October. She hadn't planned to open her own business, but she says the pandemic gave her a new perspective on life and when a suitable location came available, she took it as a sign that she needed to make a move.
Like Martinez, she realized it was essential to provide an environment where she could observe social distancing and have a super clean salon to make her customers comfortable and keep them safe.
With former Hair Tecq owner Liz Tench working alongside her, business is booming. Johnson attributes the steady flow of new clients to people moving from other states and the adult children of current residents returning to Florida to work remotely from their parents' homes.
"People are really fascinated with businesses that have started during this time," Johnson says. "Some people have said to me, 'You're crazy,' and others have said, 'Wow, this is a smart thing to do.'"