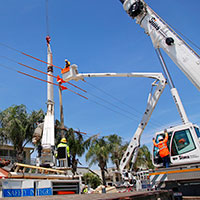 Utility poles on Ocean Drive will be replaced this spring
STORY BY LISA ZAHNER (Week of February 25, 2021)

A lot is going on with utility poles in Vero Beach.
First and most noticeable, Florida Power & Light crews will be working on Ocean Drive over the next few months replacing aging wooden utility poles with sturdier concrete poles; second, Vero wants FPL to take down the old wooden poles when the new poles go up, something that hasn't happened elsewhere in the city when poles were replaced; and finally, some city officials want to explore the option of having utility lines run underground, though that would be expensive for residents.
City Manager Monte Falls said "FPL is undergoing a major effort in our community for storm hardening."
Falls said FPL will replace poles in residential stretches of Ocean Drive now through early April, during daytime hours, then work in busy commercial areas after Easter, at night. The first section to get new poles will be from Riomar Drive north to Humiston Park, followed by the section from Banyan Road north to Greytwig Road.
"That should take them past Easter. Then they would jump back and do the center section," Falls said of the Ocean Drive commercial district between Humiston Park and Banyan Road.
The timing for taking down the old poles on Ocean and throughout the city is much less certain, said Vero's new Assistant City Attorney Jenny Flanagan. It's not something that FPL can do unilaterally, because AT&T and Comcast need to relocate their lines and equipment to the new concrete poles first. As of March 2020, Flanagan said there were approximately 2,600 double-pole locations in need of attention in the city.
The city wants the old poles removed in part for aesthetic reasons. Vice Mayor Rey Neville said residents can see the evidence on Club Drive that the double-pole problem "destroys the ambiance" of the neighborhood. "We as a city need to do something about it and we need to do it aggressively and we need to do it now."
In order to have all the old poles removed, Vero must map out the locations of all the double-pole placements in the city limits and then somehow get FPL, AT&T and Comcast officials in the same room to coordinate moving the equipment off the old poles.
That is a challenge, because "AT&T and FPL are in litigation in front of the Federal Communications Commission, so there's some breakdown in the communication," Flanagan said. "It's a rate dispute. ATT is alleging that FPL is overcharging for the use of the poles. ATT pays a fee to attach their equipment and share the poles."
Back in 2018, the three mega-companies used to sit down weekly and plan out pole replacements, but now they are not on the same schedule. Falls said that FPL budgets for the project and sends the crew to put up the new poles, but AT&T and Comcast aren't aware it's happening, so then they must do their own budgeting and scheduling and it drags things out.
"FPL does not dispute that they have the legal responsibility to remove the old poles," Flanagan said. "One of the problems is that it's a low priority for FPL to remove the poles and for AT&T and Comcast to move their equipment to the new poles."
Falls said the city is examining Vero's rights under its franchise agreements with all three utilities to determine if the contracts offer a remedy to the pole problem and if not, to modify the agreements to require the removal of the old poles within a short time period. "We hope to have some positive things to report," Falls said.
Flanagan said public pressure might help speed up the process. She found in her research that Weston in Broward County has been successful at getting their old poles removed by getting word out about the problem through media and public meetings. "In some cities, residents calling to say, 'This pole is on my property,' has been successful. Maybe it's that public pressure to FPL," Flanagan said
An FPL spokesperson said "we understand the concern with double poles and are diligently working to minimize these.
"We work with utilities to encourage the transfer of equipment to our upgraded, hardened poles," the spokesperson said. "As for the amount of time third parties expect to complete the work, we cannot speak for other utilities."
On a positive note, Councilman Bob McCabe, who lives in the area getting new poles, pointed out that city residents will benefit not just from poles built to withstand hurricanes better, but also from the replacement of corroded switches and other components as they go.
"It's just operating in the salt air environment. You folks that live there, you know how quickly things deteriorate and it's got to be continual maintenance," Falls said.
To minimize the ravages of the elements, Neville and Councilman Joe Graves both want Vero to push for all the utilities to be moved underground on the barrier island to further protect residents and businesses from outages and downed power lines.
"We discussed it with (FPL) and they don't have the budget," Falls said. "We can work with them to plan an underground project, but I'm just guessing that there would probably be an assessment for that on the benefitting properties."
The Town of Palm Beach, rejecting the concrete power poles, in 2016 voted to move its utilities underground. That $90 million project is still underway, with property owners picking up the tab. Underground utilities can cost up to seven to 10 times more than above-ground utilities, according to various engineering articles online, which also say that undergrounding is not a cure-all for coastal areas. Access to repair and maintain equipment is more challenging, and underground utilities are vulnerable to damage from floods and storm surge.