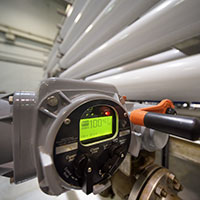 Vero hits the Shores with epic demand for documents
STORY BY LISA ZAHNER (Week of February 25, 2021)

After the Town of Indian River Shores released a 10-year-old letter from former Vero city manager Jim O'Connor in an attempt to show the public it has a strong case in an ongoing breach of contract lawsuit, Vero's lawyers hit the Shores with an epic request to produce 36 years' worth of utility documents.
The Feb. 17 filing with the court asks Indian River Shores for all "documents, correspondence, emails, interoffice and intraoffice communications, text messages, or any other records that relate to any other records that relate to any of the allegations contained in Plaintiff's complaint."
A separate item requests all records from 1985 to present related to the town's original 1986 water-sewer franchise agreement with Vero Beach. Yet another item requests any records or correspondence between Indian River Shores and Indian River County related to utilities or utility rates, from 1985 to present.
Other catch-all items request "All documents referencing or discussing Defendant City of Vero Beach's water, wastewater, reuse water utility services and rates" plus all correspondence to or from the town manager related to water, wastewater and reuse water.
Town Manager Joe Griffin did not respond on Monday to a request for comment on this development in the case, but the sheer scope of the request by Vero would presumably take much staff time and effort to research, scan or copy and put together. The request says Indian River Shores has 30 days to comply.
The lawsuit is over a disputed rate the City of Vero Beach is charging Shores customers for reuse irrigation water. The 2012 franchise agreement between Vero and the Shores states that Vero will match county rates for Shores customers – reflecting a deal struck between the town and the city to keep the Shores from exiting Vero's utility system and contracting with Indian River County for water, sewer and reuse irrigation water.
For nearly seven years, Vero did match the county's rates, but when Indian River County reduced its reuse irrigation water rates drastically in March 2019, Vero did not reduce the Shores rates to match the new lower county rates. Vero claims it was not required to match the reuse irrigation rates because it is providing pressurized reuse water, which the city says is a different category or service than what the county provides for the new cheaper rate. Vero also claims the town lacks standing to sue for breach of contract, despite the town being both a party to the contract, and a reuse irrigation customer.
Indian River Shores utility ratepayers on the Vero water-sewer system are in the unfortunate position of having to not only pay the town's own attorneys for representing their interests, but also being forced to pay a portion of the fees of Vero's legal team because Vero has the ability to charge legal fees on utility matters to the water-sewer utility enterprise fund's budget.
Vero Beach is being represented by Gray Robinson's utilities division lead Thomas Cloud, plus City Attorney John Turner. Vero-based civil litigation attorney Paul Berg represents Indian River Shores, plus the town has sought utilities law help from attorneys in the Holland and Knight law firm that was engaged by the town to work on pushing for the sale of Vero electric.
The case has been assigned to Circuit Court Judge Janet Croom. No hearings were scheduled in the case as of press time, as the litigation is still in the early stages of discovery.
Indian River Shores can exit its utility franchise agreement with Vero in 2027, with formal notice of non-renewal by October 2023.
Shores officials have urged Vero to consolidate its water-sewer system with Indian River County Utilities and said that if Vero fails to do so, Indian River Shores would likely not renew the utility franchise with the city, stripping Vero of nearly $3.5 million annually in rate revenue.
That money is needed by the city to meet utility expenses and help fund the planned $50 million wastewater treatment plant at the Vero Beach Regional Airport complex that will allow the old sewer plant on the Indian River Lagoon to be dismantled.