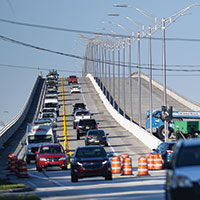 Why don't we see work being done on island road and bridge projects?
STORY BY RAY MCNULTY (Week of February 4, 2021)

For weeks, Vero Beach 32963 readers have been phoning and emailing this newspaper asking why no work is being done on the highway A1A widening and resurfacing project that began in June.
Readers see the orange barriers that divert traffic around construction zones throughout the $6.7 million project, which covers a 6.74-mile stretch from just north of the Vero Beach city line to Coco Plum Lane, north of Wabasso Beach, and they see construction equipment parked along the seaside highway.
But they say they never see any workers – and haven't since before Christmas.
One reason, according to Florida Department of Transportation project spokesperson Kathleen Dempsey, is that, for the past couple of weeks, work on the road project has been done at night – between 8 p.m. and 6 a.m. Sunday through Thursday – to minimize impact on the island's busy-season traffic flow.
Prior to mid-January, work was limited, and even stalled, because of what FDOT described as "asphalt plant issues" that interrupted the delivery of material needed to pave the roadway.
And prior to that?
Dempsey said "FDOT specifications" prohibited crews from working on the project from Dec. 24 through Jan. 2 "to avoid impacting traffic flow during the holidays."
Despite the interruptions and delays, and our readers' frustrations, however, Dempsey said the project – highlighted by the installation of 7-foot-wide bicycle lanes on both the northbound and southbound sides of the highway – is currently ahead of schedule.
"We are anticipating completion in spring 2021," she said, "and the original advertised completion date was fall 2021."
Local beachside drivers, including seasonal residents and visitors, will find that traffic along State Road A1A has been shifted at various locations, where existing median turn lanes are being used for through traffic to accommodate construction of the wider shoulders.
Dempsey wrote that the travel lanes will return to their original configuration as the project nears completion this spring. However, she warned that both northbound and southbound bike lanes will remain closed through the end of the project.
"During this time," FDOT warned in its weekly traffic report, "cyclists and motorists should share the road."
A second FDOT project where it appears no work is taking place is the 17th Street Bridge, which FDOT inspectors declared "structurally deficient" in May after finding spalls in concrete support beams.
In order to complete structural repairs to the bridge, which opened in 1979, FDOT closed the eastbound lanes, diverting all traffic to the southern side of the span and reducing traffic flow to a single lane in each direction.
Told that Vero Beach 32963 readers have complained about not seeing any workers on the bridge in recent weeks, Dempsey first said motorists can't see the crews because the spall repairs are being done from a barge beneath the span.
But Vero Beach 32963 staffers on multiple occasions last week did not see any work being done when viewing the underside of the bridge from adjacent properties.
Asked about the discrepancy, Dempsey said work might've been temporarily halted to allow inspectors to review the project's design, but she needed to get confirmation from FDOT supervisors, who had not responded to inquiries as of press time.
Dempsey said the $1.1 million project is scheduled to be complete in about four months.
"Once work on the eastbound bridge is complete [at the end of February]," Dempsey wrote in her email, "traffic will be shifted to the westbound side for a duration of approximately three months."