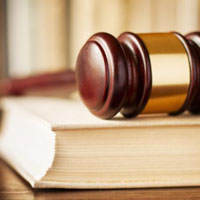 Will hidden-camera videos from prostitution-sting be destroyed?
STORY BY RAY MCNULTY (Week of February 4, 2021)

Will a federal court's order that hidden-camera videos taken of New England Patriots owner Robert Craft during a prostitution sting be destroyed lead to destruction of similar tapes of more than 100 men in Indian River County?
Newly elected State Attorney Tom Bakkedahl doesn't think U.S. District Judge Rodolfo Ruiz II's destruction order in the case of Kraft and others arrested by Jupiter police will apply here.
"The difference here is that we still have felony cases pending against the spa operators," Bakkedahl said, "and they didn't."
He contends the surveillance videos – despite being ruled inadmissible as evidence in misdemeanor prostitution cases – might be needed to prosecute the operators of the now-shuttered massage spas in Indian River County.
Bakkedahl's office is pursuing felony charges, including racketeering, against Lanyun Ma, who managed the East Spa in downtown Vero Beach, and Liyan Zhang, who ran the East Sea Spa outside Sebastian.
Both women have pleaded not guilty.
But defense attorney Andrew Metcalf, who represented more than 30 of the men arrested here, said he will continue to seek the destruction of the videos that were surreptitiously recorded by local law enforcement agencies.
"My clients want them destroyed," Metcalf said, "and they should be destroyed."
All of the solicitation charges against the men were dropped this past fall, after the Florida Attorney General's Office decided in September to not challenge a state appeals court ruling that upheld several county judges' suppression of the videos on constitutional grounds.
In a unanimous decision, Florida's Fourth District Court of Appeals ruled in August that the tactics used by law enforcement in the prostitution sting were "extreme" for investigating misdemeanors.
The Fourth District's 23-page opinion, written by Judge Corey J. Ciklin, offered a stinging rebuke of both the Vero Beach Police Department and Indian River County Sheriff's Office for failing to minimize the intrusion into the privacy of innocent spa customers – at least four of them were women – in various stages of undress.
Ciklin cited the Vero Beach police investigation as the "most egregious example" of violating constitutional privacy protections because its cameras recorded continuously and indiscriminately for 60 days.
"Those innocent clients potentially live with the knowledge that nude videos of themselves are preserved on a server somewhere with unknown accessibility," Ciklin wrote. "In our ever-increasingly digital world filled with hackers and the like, such awareness renders the surveillance a particularly severe infringement on privacy.
"We agree with the trial courts that this is unacceptable."
Metcalf's clients were among those concerned the illegally recorded videos might someday resurface, which he said would be "devastating" to the men whose rights were violated. So, he filed a motion in October asking that they be destroyed.
In response, county Judge David Morgan, who retired last week, ordered the videos not be released to the public, but he tabled his decision on their destruction, pending the resolution of the related felony cases.
Meanwhile, Vero Beach City Attorney John Turner said Sunday he wasn't sure how Judge Rodolfo Ruiz II's destruction order might impact civil lawsuits filed against the city and county by men arrested during the sting – or if videos could legally be destroyed.
"What if the videos are needed as evidence in those cases?" Turner said. "And I wonder: If the videos are public record, how can they be destroyed?
"I don't want to disagree with a judge," he added, "but we might need another judge to take a look at it."