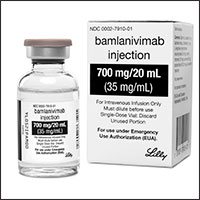 Antibody treatment available here for high-risk patients
STORY BY MICHELLE GENZ (Week of January 14, 2021)

A COVID-19 treatment that may help high-risk patients avoid having to go to the hospital has arrived in Vero Beach just as hospitalizations are approaching record levels in the county.
The monoclonal antibody treatment with a tongue-twister name – bamlanivimab – is now available in Indian River County through a Vero clinic that participated in a trial of the drug.
The FDA granted bamlanivimab emergency use authorization for high-risk patients who are at early stages of the disease.
Whole Family Health Center, believed to be the only site in the county to offer the drug, has given six COVID-19 patients infusions of the drug since the emergency authorization and another 14 before that as part of the study, according to Dr. Gerald Pierone, an infectious disease doctor who oversaw the clinical trial. "I expect to be doing three daily soon," he said.
Pierone received an initial shipment of 14 vials through the state's pharmacy in the first week of January, and is scheduled for regular weekly shipments, he said.
"We should have enough doses to meet the demand," he said. "We're trying to build up to be able to treat two or three people per day if necessary."
The treatment, which mimics the body's natural antibodies, arrives just as hospitals here are seeing a worrisome uptick in COVID-19 cases and deaths. Hospitalizations were at record highs at the end of the year, and last week was among the deadliest to date in the pandemic, with 16 county residents lost to the coronavirus.
It's hoped bamlanivimab may slow that trend. The synthetic antibody works by binding to an area of the virus' spike protein, blocking it from attaching to receptors in the human body and infecting a wide range of cells.
In the trial, researchers wanted to see a post-infusion drop in the patient's baseline viral load by day 11. Secondarily, they were looking for fewer ER visits or hospitalizations by day 29. Both of those goals were reached to a statistically significant degree.
Though bamlanivimab has been shown to reduce emergency room visits and shorten hospital stays when given to early-stage patients, but it should not be given to hospitalized patients or patients requiring oxygen therapy due to COVID-19.
The drug has to be given in I.V. infusions in a clinic able to manage any allergic reaction, and at the same time, keep the high-risk patients, who already have mild to moderate symptoms, from exposing uninfected patients to COVID-19. That "may be difficult," according to JAMA, the medical journal of the American Medical Association.
While Health Canada has given its approval to the drug, the province of British Columbia on Monday rejected use of the drug citing "little published evidence of clinical benefit and very limited safety data." The provincial government expressed concern over the lengthy infusion process involving patients at a highly infectious point in the disease.
Pierone will use the same isolation unit on 37th Place that he used in the clinical trial.
Getting the word out about the local availability of the drug has required effort on Pierone's part.
Beyond offering the treatment to patients recently testing positive at Whole Family who meet the emergency use criteria – 65 and over, with symptoms – Pierone has reached out to Cleveland Clinic Indian River Hospital, Treasure Coast Community Health Center, the VNA and the Health Department to let them know the treatment is available.
He has also been in touch with doctors at Lawnwood Regional Medical Center in Fort Pierce, where Whole Family also has a clinic.
The drug, made by Eli Lilly, is similar to Regeneron, a drug that received emergency authorization the week after bamlanivimab. Regeneron, a so-called cocktail of two monoclonal antibodies that have to be given together, was given to President Trump when he caught the coronavirus.
A Fort Pierce doctor, Moti Ramgopal, is conducting a study of Regeneron's antibody cocktail in St. Lucie County, along with a trial of remdesivir, another COVID-19 therapeutic. Remdesivir, an antiviral drug used in HIV therapy, is used in hospitalized COVID-19 patients and has been shown in trials to shorten the stay.
Both bamlanivimab and the Regeneron antibody cocktail have to be given early in the disease progression, before hospitalization, and before a COVID-19 patient needs oxygen therapy.
Patients eligible for bamlanivimab are those diagnosed within 10 days and are 65 or older or have one of the following underlying conditions: obesity, diabetes, chronic kidney disease, immunosuppressive disease or are receiving immunosuppressant therapy.
The drug can also be given to people 55 or older with high blood pressure, cardiovascular disease or a chronic respiratory disease like COPD. The treatment is also available in certain pediatric cases with underlying conditions.
Getting bamlanivimab out to the public was expected to be difficult, with the drug in short supply. Some say the fact that it has to be given early on means some at-risk populations are less likely to receive it, either due to delayed testing or lack of access to physicians who know where to send them for treatment.
Pierone is in an ideal situation to avoid that barrier to care. Whole Family Health, the clinic he founded, and which is offering the treatment, is a low-cost to no-cost clinic serving thousands of patients in lower-income communities.