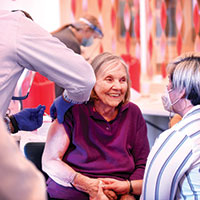 Assisted living residents finally getting vaccine
STORY BY MICHELLE GENZ (Week of January 21, 2021)
Photo: Rosemary Huhnke receives her dose of COVID-19 vaccine with a smile at Pelican Landing.

Six weeks after long-term care facilities were given top priority for the COVID-19 vaccine, and more than a month after the first vaccines were authorized for use, residents and staff of Indian River County assisted living facilities are finally getting inoculated in significant numbers.
Monday morning, a team from Walgreens arrived for the first of three vaccination clinics scheduled at Pelican Landing Assisted Living and Memory Care, a 100-bed facility on U.S. 1 in Sebastian.
"It's a light at the end of the tunnel," said the community's executive director, Kim Sviben.
Sonata Senior Living in Vero was also getting vaccines Monday, with follow-up clinics on Feb. 8 and March 1. Sonata runs more than 20 facilities in the state and has partnered with both CVS and Walgreens to deliver the vaccines. In Vero, it was Walgreens giving the jabs this week.
"For the amount of residents we have, it's moving really good," said Sonata's concierge, Savannah Brown. "All the residents have been coming down, everything's going really smooth and everybody's doing good."
Florida Baptist Retirement Center was slated for shots on Tuesday from CVS. That clinic included second doses of vaccine for the center's nursing home patients, and first-round shots for assisted and independent living residents. Nursing home patients got their first shots Dec. 29.
The Isles of Vero was not expected to get its first vaccine doses until Thursday, though corporate parent Holiday Retirement announced in mid-December that it would be "among the first communities in the country" to receive the vaccine.
Two weeks later, in late December, local management sent a  letter to Isles residents encouraging them to get vaccinated at off-site locations if they could, while the Isles continued to wait for an on-site date from CVS. That date finally came in an announcement last week.
Follow-up doses are scheduled to be administered at the Isles on Feb. 11, with a third clinic on March 4. The Isles has more than 200 residents in assisted and independent living.
The Brennity at Vero Beach also was scheduled to receive its first round of vaccine Thursday. Management learned of the date late last week.
"We've been waiting on CVS like everyone else in the world, or Walgreens," said Eric Hammerquist, regional director of operations for Brennity.
Hammerquist said other Brennity properties in his division – one in Tradition and one in Melbourne – had already received their first round of vaccine, and said friends of his in senior living management in Palm Beach and Martin counties had already seen their communities get first doses.
"I've been in the industry a while, and all my friends that run buildings are talking about the amount of shots they're giving out now on the Treasure Coast," said Hammerquist.
The largest senior community in the county, Indian River Estates, run by Acts Retirement-Life, has another week to go before its assisted and independent living communities get their first shots, slated for Jan. 28. Residents of the community's nursing home component, Willowbrooke Court, were vaccinated Jan. 7, along with facility staff.
Other independent living facilities haven't been so lucky, including Regency Park, owned by HarborChase.
"Our director told us a couple of days ago that Walgreens isn't going to come here now because we're not connected to the assisted living building," said Marjorie Albertson, who lived for 25 years at Sea Oaks before moving to Regency Park.
Albertson said she asked management to allow Regency Park residents to "line up in our wheelchairs outside" to get the shot after Walgreens has finished vaccinating HarborChase assisted-living residents.
"So, all of us 90-year-olds are supposed to figure out how to do all that online stuff? We can't get through to Cleveland Clinic. You try to call and it's busy, busy, busy," said Albertson.
"I just feel like we're slipping through the cracks."
A call to Dan Ellis, head of marketing for HarborChase, went to a full voice mailbox. An email had not been returned by press time.
As of Friday, Somerset House, the assisted living section of Oak Harbor, had not yet nailed down a date with CVS, its selected partner, according to staff.
The pharmacy giants stand to lose those vaccine customers who haven't been scheduled by the end of this week.
In a move that may have lit a fire under the pharmacies, Gov. Ron DeSantis announced in mid-January he had contracted with another health entity, CDR Health, to begin scheduling its own vaccination clinics with any long-term care facilities that weren't already scheduled for a clinic on or before Jan. 23 with CVS or Walgreens.
So far, none of the assisted living facilities reached by Vero Beach 32963 have resorted to CDR, though the company has held clinics in Palm Beach, Broward, Miami-Dade and Hillsborough counties and was to expand to other counties Jan. 18, according to the Agency for Health Care Administration.
The federal Pharmacy Partnership for Long-term Care program was first announced in October, with pharmacy giants CVS and Walgreens committing to vaccinate all staff and residents in long-term care on site, and at no out-of-pocket costs.
That same month, the Florida Department of Health made public its draft of a vaccine distribution plan that put long-term care residents and staff at the head of the line for vaccines, along with healthcare workers.
In mid-December, as the Pfizer-BioNTech vaccine won emergency use authorization, with the Moderna vaccine following a week later, the state began vaccinating seniors in a pilot program in nursing homes in Broward and Pinellas counties.
In a burst of optimism, then-Secretary of Health and Human Services Alex Azar said all nursing homes could be vaccinated by Christmas. That didn't happen.
At the same time, the state's pilot program apparently went into a stall when health departments turned to CVS and Walgreens for help.
Making matters worse for nursing homes, in Florida, two days before Christmas, DeSantis suddenly opened vaccine eligibility to anyone 65 or older.
According to the CDC's vaccination plan as well as Florida's own – which somehow never got beyond the draft stage – long-term care residents and frontline health workers were to be first in line for the vaccine. But the pool of recipients expanded by 4 million under DeSantis' new order.
On Dec. 21, the first doses of vaccine arrived at Cleveland Clinic Indian River Hospital, and that same day, the hospital began inoculating frontline caregivers. Another shipment, this time the Moderna vaccine, was expected later that week.
Then, on Dec. 29, a batch of vaccine arrived at the Indian River County Health Department – just under the wire for Miranda Hawker, the health department's director, who in early November told the Vero Beach City Council she expected the vaccine "late in December."
Those first doses were administered to healthcare providers outside of the hospital as well as to the general public age 65 and over.
When he expanded the pool of recipients, DeSantis said more vaccine was expected – even though the state was already short a million doses of the 2 million DeSantis had originally hoped for by the end of the year. He also was presuming that long-term care residents were already getting vaccinated through deliveries directly to CVS and Walgreens.
In fact, at that point, fewer than half of Florida's nursing homes had had a vaccine clinic, the state surgeon general reported at the start of the new year.
As for assisted living facilities, as of Jan. 1, only 34 of the state's 3,400 facilities had self-reported getting the vaccine, according to the Orlando Sentinel.
Each facility requires three clinics in order to give the initial vaccination plus a follow-up shot three to four weeks later, as well as a third clinic to take care of anyone who missed one of the first two.
There are five nursing homes in Indian River County, and 700 in Florida. Altogether they house around 70,000 people. There are 25 assisted living facilities in the county among 3,000 statewide with a total 100,000 residents.
In addition, the staff of those facilities must also be vaccinated along with outside providers, including private-duty nurses and essential caregivers. The state estimates total long-term care residents and staff to be more than 300,000.
It is not an exaggeration to say that each day of delay getting vaccines into long-term care facilities could have a dire cost. Active COVID-19 cases among long-term care residents in Florida have risen by a third since a month ago, to 3,651. That translates to 2.63 percent of the 138,633 residents statewide.
Cases among staff are not as high, according to state reports. There were 2,762 cases among staff at the start of the week.
As of Monday, there were 108 active COVID-19 cases in Indian River County's long-term care facilities, including 63 residents and 45 staff members.
According to state figures reported by the facilities themselves, there have been 61 COVID-19-related deaths in five nursing homes in the county – with 20 each in Consulate and Palm Garden – and 35 deaths in nine assisted living facilities. That includes seven at HarborChase and five at the Brennity.