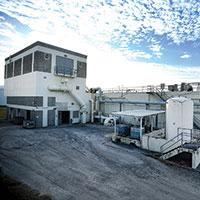 Indian River Shores says it likely will leave Vero water-sewer utility in 2027
STORY BY LISA ZAHNER | NEWS ANALYSIS (Week of January 21, 2021)

Indian River Shores Councilman John McCord told Vero Beach officials last week that the town will likely leave the Vero water-sewer utility in 2027, potentially crippling plans to move the sewer plant off the river.
McCord recommended a solution to this threat of losing a sizable chunk of the city's customer base and revenues – merge with Indian River County Utilities. But Vero says consolidation is a non-starter and would cost more than relocating wastewater treatment operations to the Vero Beach Regional Airport.
This discussion takes place amid a pending breach of contract suit between the Shores and Vero over utility rates. McCord, who joined the Shores town council in November, is a retired energy executive with decades of high-level experience in utility regulatory matters. He was recruited to run for office to help negotiate the water-sewer dispute with Vero. 
The Shores could be serious about terminating the franchise, or it could be angling to cut a deal – like it did in 2012 when the town council chose Vero over Indian River County Utilities in exchange for major rate reductions.
Ironically, the Shores' move to reject Indian River County's pitch for the town's utility business and stick with Vero Beach Utilities in 2012 killed talks about consolidating the city and county utilities then.
The Shores' decision bought Vero 15 more years during which it could continue transferring $3 million annually from utility revenues to the general fund, $1 million in direct transfers, plus $2 million for City Hall overhead.
Two major factors give Indian River Shores more leverage now than the town possessed in 2012. The exit terms of the current franchise agreement are much more favorable to the Shores, transferring ownership of nearly all of the utility infrastructure to the town upon termination.
Also, with Vero Electric sold to Florida Power & Light and the city's huge, riverfront electric plant no longer functioning, Vero is under pressure to dismantle both Big Blue and the neighboring sewer plant.
Moving sewer plant operations off the Indian River Lagoon and out to the Vero Beach Regional Airport complex is a key element of the city's plans to develop commercial, recreational and cultural amenities on the two riverfront utility parcels.
The new plant will cost $50 million or more to build, and Vero needs every water-sewer ratepayer it has to help fund that effort, including those in the Shores.
Indian River Shores' major beef is that Vero has not matched Indian River County Utilities reuse water rates for Shores customers, as agreed in 2012. For the past two years since the county reduced what it charges for reuse irrigation water, Shores customers have paid Vero 46 cents more per 1,000 gallons than the county charges its customers.
If the parties cannot work things out, that 46 cents will seem like chump change.
According to Vero Finance Director Cindy Lawson, Indian River Shores accounts for nearly one fifth of the water-sewer utility's $17.4 million in annual revenue. "The current percentage of total revenue from all sources (water, sewer, irrigation and re-use) is just under 20 percent," Lawson said of the Shores portion. That's about $3.4 million.
Over the past decade, Utility Director Rob Bolton has trimmed costs, automated and privatized functions where possible, cross-trained employees, and paid off debt, reducing annual operating expenses by $4 million. In other words, the "fat" has already been trimmed from the water-sewer utility.
Indian River Shores, bound to Vero's water-sewer service since the 1980s, was wary of signing another 30-year commitment when town officials brokered the current franchise agreement in October 2012, so they settled on a 15-year deal, which could be renewed for 15 years. The first 15 years of that agreement expires in 2027.
Vero committed in 2020 to take the lagoon-front sewer plant offline in five years, so debt payments on $50 million or so the city needs to borrow for a new plant won't even start until 2025.
If Indian River Shores comes out of the current breach of contract lawsuit less than satisfied with the result, or if Vero refuses to broker a consolidation deal with Indian River County, town officials will likely give the required formal notice in 2023 that the town will exit Vero Beach Utilities in 2027.
Should the Shores break with Vero's sewer and irrigation water service, Vero's remaining ratepayers would shoulder the entire cost of the new sewer plant, plus all the fixed costs of running a utility.
Converting septic system owners into Vero sewer customers through the installation of STEP systems will spread costs over a greater number of households, but it will not make up for losing all of the high-consumption customers in Indian River Shores.
At last Tuesday's Utilities Commission meeting, member John Cotugno asked for a solid cost estimate and timeline for the plant project, but Vero officials don't know at this point how much the new sewer plant will increase rates.
"We are working with our consultants on a high-level analysis of the rate impact of the debt service," Lawson said. "It is not yet complete, so I don't have a calculation of the total rate impact or the individual elements of the rates impacted."
This puts Vero in a very precarious negotiating position going into litigation. If Vero stands its ground, or wins the lawsuit, the Shores likely will terminate the franchise in 2027.
But if the city gives in to the Shores' irrigation water rate demands now, Vero will lose hundreds of thousands in revenue annually, with no guarantee the Shores won't leave the utility system in 2027 anyway.
Vero City Attorney John Turner has said the city has a solid case and will defend its position in the lawsuit and Vero officials held a closed executive session last Friday to talk strategy, as allowed by Florida laws.
Attorney Paul Berg represents Indian River Shores, and Vero has hired attorney Thomas Cloud, who heads up the utilities division for the Gray Robinson law firm, to handle the city's case.