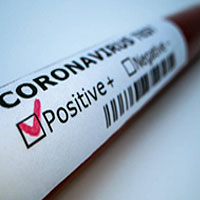 New COVID-19 cases set another record here
STORY BY LISA ZAHNER (Week of January 7, 2021)

Indian River County did not start off 2021 on the right foot in terms of COVID-19 statistics, setting new weekly records as 804 additional people tested positive for the coronavirus, including 56 on the barrier island.
The county's average daily case count of 114 over the past week was more than double the average of 55 cases per day during the July summer surge.
The rate of positives discovered among those tested for the virus last week ranged as high as a whopping 26.42 percent on Dec. 28, with the typical day reporting between 14 percent and 15 percent positive. For a span of several months, that number had almost never reached double digits.
Thirty-seven people were newly hospitalized in the week before press time Monday, and the daily count of people hospitalized crept up past 50 at times and hovered in the mid-40s much of the week. Tragically, the deaths of six people from complications of COVID-19 were reported.
Thankfully, nearly 2,000 doses of the Pfizer and Moderna vaccines were administered to local seniors, front-line healthcare workers and nursing home residents, giving them some amount of protection from getting severely ill from the virus in the coming weeks as they await their second vaccine doses.
Among the direct-contact caregivers vaccinated at Cleveland Clinic were five paramedics on the Indian River Shores Public Safety Department staff, and 62 firemedics from Indian River County Fire-Rescue.