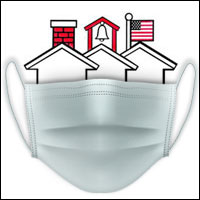 No post-holiday COVID-19 spike, so far, at public schools
STORY BY GEORGE ANDREASSI (Week of January 14, 2021)

Holiday travel and gatherings during the two-week winter recess so far have not caused a rise in the number of COVID-19 cases in the Indian River County public schools.
In fact, the first week back saw the fewest number of new COVID-19 cases since October, with just five students and one staff member testing positive for COVID-19 so far in 2021.
Another 50 students were directed to quarantine because they had been in close contact with people diagnosed with the virus, the district says.
Approximately 200 additional students returned to class in person last week for the second semester, joining some 10,000 students already studying in district classrooms, according to School Superintendent David Moore.
But the district doesn't expect many more students to return from the virtual schooling programs this year, Moore said.
"At this point in the year, it's pretty safe to say if they're not already back, they're going to want to stay there," Moore said about the students taking classes via computer.
Two students at Fellsmere Elementary School tested positive for COVID-19 and 11 students were quarantined last Thursday, according to the school district.
An Oslo Middle School Student and a staff member also tested positive for the virus while 17 students were quarantined, and a student at Gifford Middle School tested positive and 18 students quarantined.
In addition, a student at Sebastian River Middle School tested positive for the virus and four students were quarantined.
Overall, a total of 135 students and 40 staff members have tested positive for COVID-19 since the school year started on Aug. 24, district records show. Another 1,394 students and 30 staff members have been quarantined.