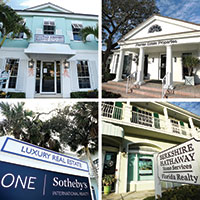 Pandemic propels island real estate to a record year
STORY BY STEVEN M. THOMAS (Week of January 28, 2021)

The global pandemic that saw wealthy home-and-apartment owners flee big-city virus hotspots  throughout 2020 propelled the barrier island real estate market to a record year, with brokers booking huge increases in sales.
Most dramatically, Dale Sorensen Real Estate became the first Vero-based brokerage ever to smash through the billion-dollar barrier, selling $1,054,526,596 in property from its 12 locations in three counties, including some $700 million in Indian River County, according to managing partner Dale Sorensen Jr.
The $1.05 billion in 2020 sales  – a whopping 25 percent increase over the company's 2019 sales – was a "surreal experience," Sorensen said. "The demand for homes in our region is on a level we have never witnessed."
Sorensen said that in April when the pandemic was first taking hold, he would have "bet his life" the company wouldn't come close to equaling its 2019 performance, let alone exceed it.
But three other island brokerages belonging to regional companies also were part of billion-dollar-plus operations in 2020, with Premier Estate Properties selling $1.55 billion out of six offices in three counties – Broward, Palm Beach and Indian River.
Meanwhile, ONE Sotheby's rang up $3.8 billion in sales in its 19 offices stretching between Miami and Melbourne Beach.
And Berkshire Hathaway HomeServices Florida Realty, a presence on the island since 2016 when it acquired homegrown brokerage Norris & Company, sold $3.3 billion from its 40 Florida offices, according to its president and CEO Rei Mesa.
Premier Estate Properties broker associate Cindy O'Dare, who with her partner, Richard Boga, closed $124 million in sales in 2020 – a 34 percent increase from 2019 – said the island's high-end market was "almost a frenzy," driven in part by "a new kind of buyer who is bound and determined to find and purchase a house in Vero Beach in the shortest amount of time possible."
Boga said, "2020 exceeded all expectations.  In March, we thought the pandemic would cause the real estate market to grind to halt. Boy were we wrong!
"By April, things were already picking up. Affluent buyers were fleeing New York City, and Vero's low-density and idyllic lifestyle attracted many of these buyers. Additionally, folks who had tried for years to sell their homes in places like Westchester and Fairfield counties were able to sell to people fleeing Manhattan, and those sellers subsequently seized the opportunity to make the move to Florida that, in many cases, they had already been contemplating for years."
"The current market has been unlike any other that we have seen," said Premier Estate Properties estate agent Luke Webb, who with his partners Kay Brown and Jeanine Harris sold $54,620,000 worth of real estate in 2020. "I just closed a deal on a $2.2 million riverfront home where the buyers purchased the home sight unseen after doing only a brief Facetime tour of the property. They did not want to spend another winter where they are and didn't want to lose out on this house to competing bidders."
"It was a historic year for Premier Estate Properties," said company co-owner/broker Joseph Liguori. "The $1.55 billion we sold with just 42 agents was a 70 percent increase over 2019, and the Vero office was instrumental in our success."
Bobbie Holt, broker in charge of ONE Sotheby's Vero office, said "I have been in the business 17 years and I have never seen transactions happen as quickly as they did in 2020, and I have never seen buyers so anxious to move to our little piece of paradise.
"The pandemic helped accelerate the demand from Northeast buyers, and a shortage of inventory increased prices throughout the market. Currently, the market only has 100 single-family homes for sale on the barrier island under $1 million. Normally we are 800 or more."
ONE Sotheby's came to Vero in 2019 when it bought Treasure Coast Sotheby's, a two-office enterprise with locations here and in Melbourne Beach. Holt says those two offices contributed about $600 million to ONE Sotheby's $3.8 billion in 2020 sales, which was a 20 percent increase over the prior year.
Berkshire Hathaway's barrier island office did "extremely well" in 2020, with dollar volume up 20 percent, according to office manager Carol Prezioso, who said 2020 was a year full of surprises.
"In January, no one expected to be involved in a global pandemic just two months later. In April, we did not expect to have 'season' in the summer. By summer, we thought things would slow down in the fall. However, the year continued to exceed all expectations!
"As an essential business, we never closed and quickly adapted to doing business utilizing technology and following CDC guidelines and best practices ... using Zoom meetings, video walk-throughs and 'telephone-tours.'"
Companywide, Berkshire Hathaway HomeServices Florida Realty sales "were way up in 2020" compared to 2019, according to Mesa, who oversees 1,650 agents operating in 21 Florida counties.
Sorensen said his company's 2020 sales "are hard to believe, really," with the country in the midst of a severe economic downturn and the worst public health emergency in 100 years. "That said, we are as grateful as ever for the trust the community has placed in our local real estate company."
Other local island brokerages had great years, too.
John's Island Real Estate broker Bob Gibb said his company sold 20 percent more in 2020 than in 2019, with "record numbers of closings in the last two months of the year and a 21 percent increase in the average sales price."
Gibb said the banner year "started with a healthy economy, then along came COVID-19 with significant stimulus dollars, then a very cooperative Federal Reserve, a great stock market, record low interest rates and the security of where we are located as a community ... The appeal of Florida, and Vero Beach specifically, just can't be overstated."
Alex MacWilliam Real Estate broker/owner Buzz MacWilliam said his company – which has been in business in Vero for more than 70 years – had a record year in 2020 "for closed dollar volume of sales.
"It was a bullish year with a lot of buyer demand and money flowing into Vero Beach," MacWilliam added. "When COVID first arrived in February and March, I thought people would be afraid, stay home and not move. Instead, we saw people leaving the big cities and metropolitan areas in search of smaller resort communities like Vero Beach with a lot of outdoor recreational activities and open space."
The only brake on the island market in 2020 was a shortage of inventory, which continued into 2021, but MacWilliam and other brokers said they expect inventory to increase in coming months.
"Once more of our residents receive their COVID vaccines, many sellers will feel more comfortable allowing buyers into their homes," MacWilliam said. "Therefore, the second half of 2021 should see more ... homes on the market."
Brokers up and down the island expect a strong market in 2021 – maybe even better than in 2020.