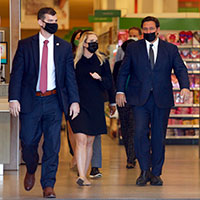 Publix added to COVID-19 vaccine sites here
STORY BY MICHELLE GENZ (Week of January 28, 2021)
Photo: Florida Governor Ron DeSantis conducts a press conference in the parking lot of the Miracle Mile Publix announcing that Publix pharmacies will soon be offering Covid-19 vaccines.

Three weeks after Publix began rolling out a program of providing COVID-19 vaccine shots at pharmacies in some of its Florida supermarkets, Gov. Ron DeSantis held a news conference at Vero's Miracle Mile Publix Tuesday to finally add Indian River County stores to the list of vaccine providers.
Since early January, Publix – as part of a collaboration arranged by DeSantis with the Florida Department of Health and the Florida Department of Emergency Management – has been administering 100 to 125 shots a day at a growing number of stores to customers who schedule a vaccination via the retailer's online reservation system.
Neither the state nor Publix have ever fully explained how the participating counties were chosen for this program.
Meanwhile, a puzzling decline in COVID-19 vaccine arriving in Indian River County is adding to the woes of vaccine providers and would-be recipients here, even as a Biden administration spokeswoman said Monday that Florida had used only half of the vaccine allotted it by the federal government.
Hospital District trustee Allen Jones said last week, regardless of whether faltering distribution is a federal, state or local problem, "it's a human problem."
But even without Publix vaccination sites, as of Monday, 10,600 people in the 65-and-over age group had been vaccinated here, 230 of those with their second dose. An additional 2,500 healthcare workers, first responders and people with serious health problems have also been vaccinated.
Scant as those numbers seem in a county of 159,000, Indian River's vaccination delivery stood at around 8.4 percent of the county population. That is 30 percent higher than the rest of the state as a whole, where just 6.4 percent of the population had been vaccinated.
Recent smaller vaccine deliveries to Indian River County that are causing delays may be due to a change in leadership in Washington, as the Biden administration realigns the vaccine distribution process.
"Since President Biden has been in office, he has appointed someone at the Federal level for distribution that is likely to make changes in the process," said Vicki Soule, CEO of Treasure Coast Community Health, which has been staging mass vaccination clinics at the county fairgrounds since the start of the year. "There is talk of a delivery slowdown for a week or so while they change things."
Statewide, 1.2 million first doses of vaccine had been given out of about 1.7 million doses received, with another 266,000 first doses expected this week. That was according to Gov. DeSantis, speaking at a Friday press conference where he turned dour. After weeks of boosterism about Florida's ability to get the medicine to the masses, DeSantis had to admit that the supply chain was out of his control.
Local officials are in the same boat. At the start of this week, no one knew for certain how many doses would be arriving in Indian River County. "It is all speculation now until it arrives," said Soule.
The same is true at Cleveland Clinic Indian River Hospital, where there is no more vaccine available for first doses, according to the hospital's president, Greg Rosencrance.
But there have been some bright spots in the vaccination process locally.
This week, several dozen home healthcare workers were scheduled to be vaccinated, after being overlooked in the first healthcare worker clinics, even though some care for COVID-19 patients in the home.
And Monday morning, Indian River County commissioners agreed to launch a new appointment system that would include a waiting list, something that residents at large have yet to experience. Details about the new system were not released but information will be published on the county website ircgov.com when available.
That decision followed another blink-and-you-missed-it appointment window for two first-dose events at the county fairgrounds.
A similar wait list in St. Lucie County has given some peace of mind to tens of thousands who've added their names since early January, though mass vaccination clinics held regularly since then have cleared only about half the list.
Indian River County's health department has delivered the majority of its allotted vaccine through Treasure Coast Community Health, which has staged a dozen mass vaccination clinics at the county fairgrounds, most of which delivered around 500 doses.
Whole Family Health Center, another low-cost community clinic, has also received vaccine for its at-risk and elderly patients.
As for those waiting for second doses, the news that vaccine is arriving specifically for that purpose may be encouraging. Soule said TCCH has been assured that second doses of the Moderna vaccine will be arriving the week of Feb. 4.
That is 28 days after first doses were delivered to the county's community clinics. Recipients will be told to come at the same time as their first appointment.
Also on the plus side, more vaccines are in the works.
Though the AstraZeneca vaccine is not expected to get emergency use authorization before spring, there was word Monday in the medical journal STAT that the one-dose Johnson & Johnson vaccine may be up for emergency use authorization as soon as mid-February – if it appears to be protective enough.
"We expect to see clinical trial data this week or next," the magazine said.
Meanwhile, Moderna announced it was developing booster shots aimed at COVID-19 variants, even though its existing vaccine appears to offer protection against the self-modifying bugs.
At the same time, Moderna said it is developing a new vaccine to protect against a variant that originated in South Africa. The company said its existing vaccine triggered antibody production against the strain first found in the U.K. but that antibodies decrease against the South Africa strain.
Both new strains are apparently more easily transmitted from one person to another. There were also reports last week that the U.K. strain might be 30 percent more deadly than earlier incarnations of the virus.
As of Friday, 195 cases of the U.K. variant had been found in the U.S., including 50 in Florida. No cases of the South Africa variant had been found here at that time.
It may help to remember that a vaccination distribution of this magnitude has never been tried before, with vaccines this complicated.
Even pandemic preparedness drills like the one staged at Johns Hopkins University – in October 2019, by chance just weeks before the first COVID-19 cases emerged in China – did not include a preview of what vaccination would look like.