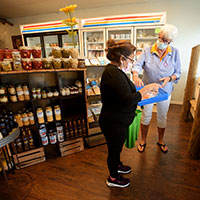 Royal Palm Pointe businesses 'on an upswing' after 2020 lull
STORY BY STEPHANIE LABAFF (Week of January 14, 2021)
Photo: Marjorie Williams of Rhonda's Seafood helps Tomasa Trejo with her order at Royal Palm Pointe.

Royal Palm Pointe businesses say things are finally picking up after a lull that began along with the coronavirus pandemic in March 2020.
The former causeway and bridgehead to the barrier island has become a popular shopping and dining locale with a mix of restaurants, retail shops, single-family homes and businesses. Its location puts it in close proximity to both beachside and downtown destinations.
But the ordinarily bustling corridor was a ghost town immediately following the COVID-19-related closures last spring, with "traffic" reduced to walkers and their four-legged friends out for some fresh air.
Fortunately, most business owners along the chic spit of land soon got their sea legs and figured out how to meet their customers' needs while keeping them safe.
Royal Palm Framing owner Jessica Myers says the shop has been in its current location for close to 40 years, and while they've seen a slight decrease in business, they've also had quite a few customers come in to frame their COVID art – paintings, puzzles and needlepoint created while quarantining or sheltering at home to avoid infection.
"A lot of people were at home and doing things to keep themselves busy, and that resulted in a fair amount of framing," said Myers, who offered curbside pickup and appointments early on in the pandemic.
Bliss Beauty Bar owner Kelly Bailey said her business stayed in the game by remodeling. "We wanted to get things a little bit more spread out. Now we're six feet apart, and it's been really busy.
"It was tough at first. With only 25 percent capacity allowed initially; that's hardly anybody. I'm just starting to grow my hair back from all the stress," she added, chuckling. "But I feel like we're on an upswing."
Maison Beach owner Darcy Dunbar moved her unique gifts and home décor shop to Royal Palm Pointe last January, just in time to settle in before the pandemic hit.
"It's a great location and I had a great holiday business," Dunbar said of her business now, noting that slow-moving traffic on the lush boulevard allows people to see the shops. "I'll see them drive by; they'll stop and back up. They might pull in right then or come by two weeks later," after previewing what she offers on her website.
"People are shopping and a lot of them are making a point of trying to find what they can find in the local shops before they do anything else."
Next door to Maison Beach, Botanica opened just before Christmas a year ago. While the shop is mainly a wholesale business, not a retail store per se, this year a fair number of people popped into the candle and apothecary company for last-minute gifts, according to Megan Hoots, account manager.
Customers wanting to purchase wholesale goods at the location "can do in-store pickup, or shop online, and use touchless and contactless pickup," Hoots added.
Vanessa Heins, owner of Casp Baby Mommy & Me Boutique, moved from her beachside location to Royal Palm Pointe in October 2019 because she needed more space for shipping and receiving.
"We moved at the perfect time," Heins said. "We had the best year we've ever had. We really grew online a lot last year," as shutdowns and fear of exposure increased Internet sales. Heins, too, credited shoppers' desire to support small, local businesses.
"Our in-store sales dropped dramatically, like everybody [at the beginning of the pandemic], but we made up for that 10-fold online, which was amazing, and we feel blessed because I know a lot of businesses struggled this last year."
During the holidays, lines of customers outside Rhonda's Fresh Seafood Market were a welcome indicator that business was getting a "fresh" start after the roller coaster of 2020.
So far, January sales are close to last year's, owner Rhonda Anderson said.
The real test will come as seasonal residents return this month, Anderson said. "When people come back their first week, they get groceries and get things set up at home. Then they start coming into the shop."
Two doors down, La Tabla owner Santiago Ares said that he has been able to offer his farm-to-table seasonal menu through an app he was able to improvise in the days following the shutdown.
The app was designed specifically for takeout, curbside and online payment, explained Ares. "You can see the whole menu with the ingredients and a contact-free option for people who don't want to have any interaction."
Ares added that his clientele is attracted by the fact the restaurant has a small crew, food is made to order, and you can see it being prepared. His business is now about 70 percent takeout.
Mr. Manatee's owner Patrick Tomassi said business has been down about 30 percent at his well-known Royal Palm Pointe restaurant but that things are beginning to pick up. He expects business to get even better later this month, when the restaurant's busy season typically kicks in.
"COVID is affecting everybody," Tomassi said. "People are scared and afraid, but Manatee's has been around for a long time. We have a unique location, and The Pointe is a favorite of a lot of people." He credits the restaurant's large outdoor dining space as a draw during the pandemic.
Nearby Pizzoodles Pizza & Pasta Co. was hindered by the small size of its dining room, with most patrons opting for to-go, said owner Joanne Weiss. "Business is not where it was," but dine-in is picking up, and Weiss anticipates a fresh start with the new year.
GoodLife Fitness Studio owner Peggy Hamilton said she has struggled, too. "I was having a killer season last February and March before the shutdown occurred.
"It was hard," she said of the early days of the pandemic. "We had to close because we're considered a gym even though we're a boutique studio." Both her clients and instructors are older and understandably concerned about their health.
To stay afloat, Hamilton created a Zoom fitness option immediately and offered classes simultaneously in the studio. The virtual format has allowed her northern clientele to continue taking classes and has garnered new clients concerned about their health because of the pandemic.
Rob Wayne, proprietor of Varietals and More wine and cheese shop, noted a change in shopper spending that he has seen. "Generally, when there is a downturn in the economy, people change their habits in terms of how they drink. Instead of buying one $50 bottle of wine, they're going to buy two $25s. People stretch their dollar. They've increased their volume."
At the onset of the pandemic, people were "deathly afraid," said Wayne, who implemented a strict curbside-only protocol.
"I won't say we had the COVID blues like a lot of other businesses," he added. "A lot of my confreres in the restaurant and catering business certainly felt the pinch a lot more than we did. Our holiday season was fruitful, and I anticipate things to move forward in a good way."
Meanwhile, business didn't miss a beat at Vero Marine Center, according to co-owner Brian Cunningham.
"It's been a record-breaking year for the boat business, along with other outdoor industries," Cunningham said. "People want to get outside. They feel safer outdoors. Anybody in the outdoor business has really seen a windfall."
Throughout the pandemic, boat owners have upgraded their boats, as they used them more.
Cunningham said Vero Marine has had "the largest influx of new boaters that we've seen in a while" – a phenomenon that he credits to people partaking of "nautical distancing."
Royal Palm Pointe Fountain public park at the tip of the nearly half-mile peninsula is a public park where children can frolic in the fountains, anglers can cast a line in the river, and strollers can take a break and watch dolphins play in the wakes of boats passing by.
The fountain portion of the city park was closed for a time during the pandemic but is back up and running on the weekends with plans to be open six days a week during the school district's spring break.