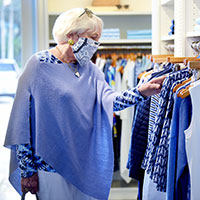 Season off to strong start at Village Shops in the Shores
STORY BY STEPHANIE LABAFF (Week of January 28, 2021)
Photo: Betty Ann Ludington peruses the items on display in the J.McLaughlin store at the Village Shops.

Vero's winter season is off to a bustling start at the Village Shops in Indian River Shores.
"I judge how things are going by the number of cars in the parking lot and the foot traffic that I see as I walk around," says Jay McLaughlin, Village Shops owner and proprietor of two businesses at the boutique shopping center – the high-end sportswear clothier J. McLaughlin, and Citron Bistro, a fine-dining establishment.
"A lot of times recently there haven't been any empty parking spaces. It's a little early in the year for that to happen, which indicates to me that we are going to have a very good rest of the year," says McLaughlin.
The open-air venue, which boasts about 20 stores and a restaurant, is custom made for pandemic shopping, with beautifully landscaped courtyards and outdoor dining.
Also fueling the center's success is the fact that many seasonal visitors who typically don't take up residence here until January chose to celebrate Thanksgiving and Christmas at their island homes this year.
McLaughlin says a compelling blend of retail shops, a loyal clientele and a period of bright, beautiful weather have helped, too. "McLaughlin's had a good Christmas. It was more positive than was planned."
To accommodate his restaurant patrons, McLaughlin has added a dining space for intimate, private events in the storefront that abuts Citron to supplement the courtyard dining.
Because more people spent the holidays here this year, Noteworthy by Design owner Wendy Roberts had a strong December – a month that's usually quiet at her boutique stationery and gift shop.
That unexpected influx of business helped make up for the loss of business earlier in the year due to the cancellation of weddings, house parties and other gatherings.
"That was a neat little gift for me because everything else obviously was not equal to past years," Roberts says.
Meghan Candler has added a virtual option at her art gallery, which offers a collection of paintings by select local, national and international painters, representing more than 40 contemporary emerging and established artists.
This allows her to meet with clients remotely so she can see where they want to put the art in their homes and then walk them through the gallery virtually to show them available artwork.
"Initially, we all hit the pause button, but I feel like better days are coming," Candler says. "I'm so encouraged; people are stopping by saying 'I'm on my way to the fairgrounds to get vaccinated.'"
Candler says the pandemic's silver lining for her is that with artists stuck in their studios, they've been extremely productive. "The art flow has never been better."
According to Sea Bags of Maine store manager Diane Julian, holiday sales of the store's nautically inspired totes and accessories made from sails were better this year than last. 
"We're starting to see a lot more people, and the lunch crowds are getting bigger," says Julian. "Some are returning customers, others have just moved to the area, and there's even a good number of people coming down from Disney's Vero Beach Resort."
Coastal Comforts co-owner Chris Pawela says his business, which showcases coastal-inspired artwork and home furnishings, had a "great fall and an unbelievable Christmas season, better than in years past."
Pawela notes that many of his customers have extra money to spend on home furnishings and decor, funds they typically would have spent traveling, adding that Vero Beach residents are special in the degree to which they "really, really want to support local businesses."
Parisian fashion designer Jean-Pierre Klifa is a relative newcomer to the Village Shops, having opened in November. The Vero shop is one of four Florida locations he's opened recently, and he has plans to open more.
Vero store manager Lee Burke says the designer has taken his signature prints and classic bucket handbags from the online marketplace to a brick-and-mortar model – a reversal from current retail trends.
With fewer social engagements going on, it's a bit surprising people are still out shopping for clothing as much as they are, but one customer told Burke she had, in fact, already worn a long dress she'd just purchased from the shop. "When I asked her where she wore it, she said, 'In my living room.'"
Elegance by the Sea also benefited from seasonal residents spending the holidays here instead of elsewhere, staying on into season, according to Catherine Caddell, retail manager of the home décor showroom and gift boutique.
"I was surprised at the number of people who live beachside who are in the habit of celebrating their holidays up north who stayed here this year instead. They bought two of our Christmas trees right off the floor, as well as decorations, wreaths, door swags and other things for the holidays."
"We have noticed more of our seasonal customers coming back sooner," says Niki Ryba, manager of specialty clothing shop Cashmere Beach.
"Things still are not as busy as they usually are, but they have been getting steadier. We picked up for the month of December and did way better than we thought we were going to do," says Ryba.
Retailers at the Village Shops say McLaughlin had been very supportive throughout the COVID-related economic downturn. One way he has helped drive traffic to the shops is through a Sip and Shop program, which benefits both shop owners and local nonprofits.
Each week the J. McLaughlin store hosts an event where flavored water and packaged snacks are served to help attract customers to the shopping center, with a nonprofit receiving a portion of that day's proceeds. In February, featured nonprofits include Childcare Resources, the Early Learning Center, Habitat for Humanity and Grand Harbor Community Outreach.
"We're creating more interest in our clothing and supporting these charities at the same time," says McLaughlin. "When you know that you're doing something that is going to help a good cause, it makes the expenditure a lot easier and more enjoyable."