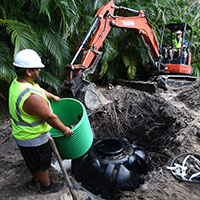 Utilities Commission urged to phase out septic within Vero city limits on island
STORY BY LISA ZAHNER (Week of January 28, 2021)

A New Year's Eve deadline forced hundreds of island property owners in the City of Vero Beach to have their septic tanks pumped out and inspected and, if found to be faulty, hooked up to the city's hybrid STEP sewer system.
Now, at least one outspoken member of the Vero Utilities Commission wants to phase out island septic systems completely within city limits.
At its most recent meeting, members of the volunteer board that advises the Vero Beach City Council on utility matters weighed the pros and cons of asking the council to take a much tougher look at the future of septic systems and lagoon health.
Vero has roughly 1,300 properties on septic, including 900 on the barrier island. Nearly half of the island systems have already been connected to city sewers via Septic Tank Effluent Pump (STEP) setups – most voluntarily, others because their septic systems failed inspection.
"The inspection program ... so far has a 22 percent failure rate, but I want you to understand that that doesn't mean that the other 78 percent of septic systems are OK," commission member Judy Orcutt said.
Orcutt presented data to the commission from a recent study done by the Florida Department of Health describing the septic system situation across Florida and giving a historical context.
She pointed out that septic systems installed after 1983 can, through natural filtration, reduce the impact of nutrient runoff by up to 30 percent because they were installed farther away from the groundwater, but that systems installed prior to 1983 are closer to the groundwater and less effective.
"The majority of the septic systems are the old septic systems that reduce zero nitrogen, that do zero treatment," Orcutt said.
The goal of the city's septic inspection program and STEP system initiative is to reduce the flow of nitrogen from human waste into the lagoon, where the chemical disrupts the ecology and feeds destructive algae blooms.
Referring to a color-coded map of Vero Beach, Orcutt pointed out the "hot spots" where old septic systems are clustered. "To me what's glaring about that is that the barrier island is obviously the hot spot," she said.
Various studies indicate that between 82 percent and 95 percent of septic tank effluent that runs off and ends up in the lagoon comes from the barrier island. Orcutt cited policies enacted in Brevard County regulating septic systems on Brevard's barrier island and on properties located within 50 meters of the lagoon, and said it's time for Vero to act, too.
"I would like to make a proposal to this commission that, as the city is moving forward making their septic remediation plan that they consider or make it a goal for the city to make the barrier island within the city limits septic system free," Orcutt said.
Emerging state regulations would require municipalities to formulate septic remediation plans.
With that in mind, Commission Chair Jane Burton said the city should wait to see what the state requires and not do something prematurely.  But Orcutt urged action now, as other coastal communities have already acted ahead of any state regulation.
As the commission discussed Orcutt's proposal, Vero Utilities Director Rob Bolton clarified that the 22 percent "failure" figure is not so clear cut. He said a sluggish drainfield is not considered a "sanitary nuisance."
A true failure is a cracked or broken septic tank, or a drainfield that is non-functioning to the point of bubbling up at ground level. The number of people with septic failures or sluggish septic systems who have applied to hook up to sewer via a STEP system has created a backlog for work crews.
"I would imagine that it will take six to nine months to connect them up between paperwork and contractor scheduling," Bolton said on Monday.
The city has not begun promoting STEP systems or special financing incentives for those who convert from septic to sewer on the mainland yet because, due to the pandemic, it has been unable to hold community meetings where residents can be informed of their options and get their questions answered.
Bolton said the city's STEP Up and Save financial incentives should be launched before a mandatory deadline on the mainland to give people a chance to voluntarily convert from septic to sewer before they might be forced to due to a septic system failure.
Vice Chairman John Cotugno said of Orcutt's proposal, "It's a good objective, but how do you propose that we do that?"
Orcutt replied that she did not have an implementation plan, that it would be the city's job to figure that out. "Clean up the worst area first, which is the barrier island," Orcutt said.
Orcutt said access to sewer via a STEP system is available everywhere in the city and it's time to get more aggressive about moving people off old septic systems because policies up to now have only gotten one third of the homes connected to sewer.
She also suggested Vero also look more broadly at the areas where its sewer system extends beyond the city limits. Vero serves South Barrier Island communities including the Moorings, down to the county line. Vero also provides sewer service to the Town of Indian River Shores.
"Just address the city limits first. Get everybody connected to the STEP system on the barrier island, and then move out from there," Orcutt said. "Just address the City of Vero Beach. Then move to South Beach, Indian River Shores, wherever."
No vote was taken on sending a specific recommendation up to city council, but legal and utility staff will come back with a draft resolution for the Utilities Commission to consider at its next meeting.
Commission member Mark Mucher pointed out that Vero Beach is only a tiny part of the lagoon and that whatever the city does needs to be "reasonable" in relation to individual property rights.