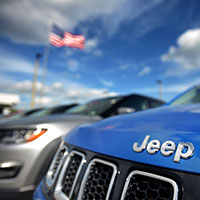 Vero Beach auto dealerships ended up having good year
STORY BY RAY MCNULTY (Week of January 28, 2021)
Photo: View of the Vatland Chrysler, Dodge, Jeep & Ram dealership on US 1.

While COVID-19 continues to put a strain on businesses throughout the Vero Beach area, the owners of local car dealerships say they ended 2020 with better bottom lines than they expected – in some cases surpassing their 2019 results.
One such dealer, in fact, declined to speak publicly because he didn't want to sound as if he was gloating while friends who owned other businesses here were struggling.
"We did pretty well," he said, "but I know people who are still having a tough time."
Local car dealers had a tough time, too, early in the pandemic – sales came to a stop in March and April, they said – but as the Florida economy reopened, buyers returned to their lots.
Sales increased throughout the second half of the year and surged in the fourth quarter, especially in December, as buyers took advantage of manufacturers' incentives, higher trade-in values and low interest rates.
"It was the perfect storm for buyers," said Jared Saunders, general manager and part owner of the Toyota and Kia dealerships in Vero Beach. "Some people came in for service and drove out with a new car."
Or a used one.
Some dealers say the COVID-related manufacturing stoppages in the spring left them without sufficient new-car inventory, resulting in more buyers choosing pre-owned vehicles.
"Inventory has been a big struggle, especially with General Motors, which went on strike in late 2019 and was just ramping back up when COVID hit," said Will Dyer, a partner in the Dyer Auto Group, which owns the Chevrolet, Subaru and Mazda dealerships in Vero Beach.
"So, we did see a large increase in pre-owned sales, especially at the Chevy dealership," he added. "It was good to see the manufacturers step up with incentives on new vehicles, and there definitely were deals to be had.
"But it still came down to availability."
Jimmy Linus, operations coordinator for Vero Beach's Linus Cadillac-Buick-GMC, said sales at the dealership dropped by 50 percent in March and April. But as spring turned to summer – and the economy fully reopened and stimulus checks reached consumers – the dealership saw sales increase and actually ended 2020 up 10 percent in year-over-year operational performance.
"We believe this is due to some of our newfound knowledge and expertise in at-home delivery, online sales and concierge services," Linus said. "As part suppliers come back online and provide manufacturers with parts they need to build new vehicles, we expect another 10 percent increase in 2021."
David Vatland, president of the local Honda and Chrysler-Dodge-Jeep-Ram dealerships that bear his family name, said he managed to bring in enough inventory to make 2020 a successful year for his business.
"Considering where we were in March and April, when it looked like the sky was falling, both of my stores did very well," Vatland said. "Both of them, in fact, ended up doing better than they did in 2019.
"Through the first part of March, we were doing really well, then everything came to a screeching halt," he explained. "We sold one car a day instead of four cars a day, like we normally do. So, we had to figure out how to save the business and weather the storm."
Like many other local business owners, Vatland applied for and received a federal Payroll Protection Program loan, which went to cover his payroll, and he stopped taking a paycheck for four months.
"Sales started picking up in May, and once we got to July, things never slowed down," he added. "The last quarter of the year went very well, and December was amazing."
The Honda dealership enjoyed one of its strongest fourth quarters ever, and his CDJR dealership sold 35 pickup trucks in December.
"I was surprised we sold the number of vehicles that we did," he said. "I was fortunate to have the inventory to meet that demand."
But why such demand?
The dealers said people – especially those who didn't lose their jobs or endure pay cuts as a result of the pandemic – weren't spending money on travel [or as much on entertainment]. The cruise-ship industry shut down, and many vacationers are reluctant to fly.
People began to use their travel budgets for other purposes.
"Some people bought new homes, or fixed up their older ones, while others put in swimming pools or bought boats or jet skis or bikes," Dyer said. "There was a greater focus on enjoying family time at home.
"It's hard to say how many of them bought new cars, but some probably did."
According to Forbes, the auto manufacturers finished 2020 with momentum nationally.
The 14.5 million vehicles sold in the U.S. last year represented a sharp decline from the 17 million sold in 2019, but that wasn't surprising, given the spring production stoppages and COVID's damage to the economy.
More promising were the December sales numbers, which Forbes reports were the industry's best since August 2019, along with the arrival of another round of stimulus checks from the government and optimism about a new administration in Washington.
"I think 2021 will be a great year for automobile sales, because there's a lot of pent-up demand," Saunders said. "Once the vaccine becomes more available and life returns to normal, manufacturers are going to want to make up for the sales they lost in 2020."