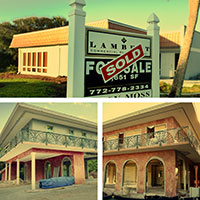 3 small commercial buildings on A1A are being renovated by new owners
STORY BY SAMANTHA ROHLFING BAITA (Week of July 15, 2021)

Three commercial buildings along a 1.5-mile stretch of Highway A1A, from just south of Beachland Boulevard to Shore Drive near the northern Vero city limit, are being renovated by new owners for new purposes, including an architect's office, a CPA's office and, most likely, a new island real estate office.
Cumulatively, the three projects comprise a small but significant upgrade of the island's built environment, as buildings that had become shabby and/or unused are brought back to life with notable upgrades.
One block south of Beachland Boulevard, the two-story building at 664 Azalea, at the intersection of Azalea and A1A, is being renovated by architect Clem Schaub as an office for his architectural firm, Clem Bruns Schaub and Associates.
Good things usually happen when an architect designs something for him- or herself, and that appears to be the case with this building, where a floating exterior staircase can be seen wrapping around and showcasing "an incredible old oak tree" near a near a small entry courtyard.
The interior, previously divided into four suites, has been completely opened up, increasing the usable square footage to "almost 4,000 square feet," according to Schaub. "We're using the entire building for our offices."
He says the style of the renovation is industrial – wide open, minimalist, all white, with open trusses and clean lines.
Built in 1985 and used for various purposes over the years, including recently as a travel agency, the cool-looking building, partly elevated above slender concrete columns, comes with a single-story companion building next door at 662 Azalea, which Schaub says will be part of the company's "compound." Combined, the two lots are nearly half an acre.
The two properties were purchased by an investor group at auction in May 2019 for $832,000, according to county property records and commercial real estate broker Kollin Kite who was involved in the deal.
"The investors were planning on building some type residential, a small apartment building, I think," Kite says. "When that deal didn't come to fruition, they sold the property to the architect, who had previously shown interest. I think he will end up with a very nice office."
Schaub, who purchased the property in August 2020 for $1,150,000, said rehab was delayed by "some COVID-related issues – materials, people – but we've worked through that, and we hope to be in by August.
"I've been in that building on Ocean Drive, where Kemp's Shoes is, for 25 years. So, this is big for us. We think it is a great location."
About a mile and half to the north, a $1 million renovation project is coming along on schedule on a long-neglected, two-story, Mediterranean-style commercial building at 5055 Highway A1A, at the intersection of A1A and Tropic Drive.
Formerly the home of Rebecca Star Interior Design, later a real estate office, the 11,400-square-foot building, which was built in 1990 on a .33-acre lot, was empty and had become an eyesore by 2020, when CPA Scott Nuttall purchased it from Starr, paying $600,000.
With a staff of 13 serving 1,200 clients, Nuttall had outgrown his current office space in the Atrium on Cardinal Drive and needed to expand.
"It's an exciting time," says Nuttall. "The demolition was super successful. Now with the stucco on the second floor, and getting rid of that crazy red paint, the visuals are great. It was an ugly interior; now it's coming to life."
When complete, renovations will include installing new windows and doors; replacing the roof; adding an elevator; installing cutting-edge technology; a complete landscape upgrade; and replacing the wrap-around balcony.
Nuttall says the project is still on target to make the original Nov. 30 completion date, the result, he says of having the right contractor – Bill Bryant & Associates – with the leverage to get the right subs on the project in a timely fashion. 
A block north of Nuttall's project, at 5075 Highway A1A at Shore Drive, is a 1,651-square-foot, single-story office/retail building that sat empty for months after the previous tenant, The Kitchen Scene, closed its doors last year. (The Kitchen Scene sign still stands at the corner of the property.)
Built in 1984, the building was acquired in January by Robenson Juste, a broker associate with cloud-based eXp Realty, who bought the building and quarter-acre lot from Robert and Patricia Stoddard for $500,000.
The property has been given a complete makeover "inside and out," and now sits, trim and tidy on a nicely landscaped lot, awaiting what comes next.
Commercial real estate broker Billy Moss, who was involved in the sale, expects Robenson to establish a real estate office at the property, which he describes as highly desirable. "It's close to the beach. It's got good vibes." 
Juste said he will have more details about his plans for the property in August.