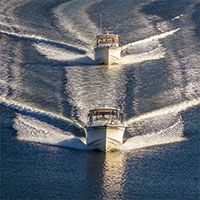 'Bahamas or bust!' – Grady Bunch resumes annual Abacos cruise
STORY BY RAY MCNULTY (Week of July 8, 2021)

As the Vero Beach "Grady Bunch" prepares for its annual summer boat trip to the Bahamas, Brian Cunningham admits there's a different feel to this one.
"We go over there every year, but this won't be the same old thing," said Cunningham, the Vero Marine Center owner who will lead a group of 10 boats that will depart Sunday on a 10-day excursion to the Abaco Islands and back.
"There's more excitement this year, more of a curiosity factor," he added. "We didn't go last year because of the COVID-19 pandemic, and people want to see what the place looks like after Hurricane Dorian.
"It's a little more of an adventure this time."
It's also one of the smaller Grady Bunch groups to make the five-hour trip from Vero Beach – down the Indian River Lagoon, out the Fort Pierce Inlet and across the Gulf Stream – to West End on the island of Grand Bahama.
Cunningham said the group usually has 12 to 16 boats, but he limited this trip to 10 because many of the resorts, hotels and restaurants in the Abacos haven't fully recovered from Dorian, which pummeled the Bahamas the first three days of September 2019 and devastated the islands.
"With 10 boats, we'll have 40 to 50 people, and a lot of the islands don't have the capability to handle larger groups," Cunningham said. "Between Dorian and COVID, they're just not ready, so we ended up with a wait list of three or four members because there was no room."
Cunningham and his wife, Karen, who handles the overseas reservations, began booking this year's trip last fall, giving first preference to Grady Bunch members who were scheduled to go last year.
Eight of them immediately committed, leaving open two spots for new members, who jumped at the chance to go.
"My wife and I met in the Bahamas in 1971, and this will be our first time back there since then," said one of the new members, Bob Teets, who moved from Texas to Vero Beach in October and lives at Grand Harbor.
"We bought a boat so we could enjoy the water here, and we saw this trip as a great opportunity to learn more about boating and meet other people who enjoy it," he added. "I've done a lot of boating, but I've never crossed an ocean before, so we're excited about it.
"It'll be wonderful to get over there and see that beautiful water."
Teets said he learned of Vero Marine and the Grady Bunch through his realtor, who is one of the club's 200-plus members.
Founded in 1988 by the late Bruce McIntyre, Cunningham's former business partner, the boating club is the first, largest and most-active in the Grady White dealer network. All of the local members purchased their Grady White boats at Vero Marine.
"I still remember my first trip over, and it's great when we have new folks come with us and they see the island coming up on the horizon for the first time," Cunningham said. "It's quite a thrill."
Cunningham said the group's first stop will be West End's Old Bahama Bay Resort & Yacht Harbour, where it will stay for one night, then continue on to Green Turtle Cay.
The boaters will spend the next eight nights at the Green Turtle Club Resort & Marina before returning to West End for one last night. From there, they'll make the 120-mile trip back to Vero Beach.
"The Green Turtle Club is one of the best spots over there," Cunningham said. "It's a nice resort in a good, central location that offers ferry service, and you can take day trips to Man-O-War or Hope Town."
The Abacos are a group of islands and cays that offer great fishing and include several dive sites with underwater caves and coral reefs.
Under normal circumstances, Cunningham said, the trip would include stops at other islands – such as Marsh Harbor, Hope Town, Man-O-War Cay and Inagua – but there was too much uncertainty this year.
"We're going to miss some of our other favorite stops," he said. "Hopefully, things will be back to normal next year."
Something out of the norm this year: COVID precautions.
Cunningham said the Bahamas Customs and Immigration is requiring visitors to show upon their arrival proof of their COVID vaccinations or a negative COVID test taken within the previous five days.
"I didn't go to the Bahamas at all in 2020, because international travel was shut down," Cunningham said. "But I've been there once this year, just to get familiar with the process, so I can share it with everyone who's going on this trip.
"We don't want to get over there and have someone turned away."
The local Grady Bunch schedules eight to 12 outings during the course of the year, and Cunningham said they always involve 10 to 15 boats. In April, in fact, the group took an overnight trip to Cocoa Village and watched the historic SpaceX launch of astronauts on a flight to the International Space Station.
"We live in a great place where there are so many fun things you can do by boat, but the Bahamas is our signature trip," Cunningham said. "We come up with a name for each trip, and this year is a little different because of COVID and Dorian and the fact that we didn't get to go last year.
"So, we're calling this one: Bahamas or Bust."