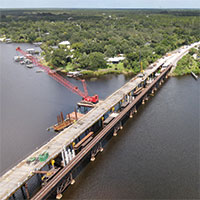 Brightline contractors step up work on bridges and crossings for high-speed rail
STORY BY GEORGE ANDREASSI (Week of July 15, 2021)

Brightline contractors have moved more construction equipment and materials into Indian River County in the aftermath of a peace accord that ended a seven-year conflict between the county and the high-speed passenger rail company.
HSR Constructors placed stacks of railroad crossing foundation panels near most of the county's 32 Florida East Coast Railway crossings, including alongside the tracks behind downtown's historic Vero Beach Train Station.
The contractors also deployed several bulldozers and front-end loaders at the railroad crossings at Highland Drive and 1st Street in South Vero to clear brush and grade the FEC right-of-way for a second set of railroad tracks.
The uptick in activity came in the month since Brightline settled the county government's state lawsuit against the company by agreeing to make $31 million in safety enhancements at railroad crossings and along the tracks.
Judge Katie Dearing, sitting in the state Circuit Court in Jacksonville, dismissed the lawsuit June 11 with prejudice based on the seven-page settlement agreement and four-page list of improvements.
The agreement ended Indian River County's $4 million lobbying and legal campaign aimed at stopping construction of the high-speed passenger rail line.
Brightline is spending $2.7 billion to extend high-speed passenger train service from South Florida to Orlando, upgrading 129 miles of FEC tracks from West Palm Beach to Cocoa and constructing 35 miles of new tracks from Cocoa to Orlando International Airport.
Brightline anticipates running 32 trains per day through Indian River County at speeds of up to 110 mph when service between South Florida and Orlando starts in 2023.
Work has been underway for more than a year on the $33 million replacement of the 95-year-old St. Sebastian River Railroad Bridge, which is due to be completed by the end of 2022.
Brightline is preparing to switch the tracks being used by FEC freight trains from the historic bridge to the first of two new 1,625-foot-long concrete bridges over the river, said spokeswoman Katie Mitzner.
Meanwhile, HSR Constructors completed work in early June on a second railroad bridge over South Canal, between the 1st Street and 4th Street railroad crossings. The $1 million project took five months.
HSR Constructors plans to start work later this year on new $1 million railroad bridges over the Main Canal and North Canal.
The new bridges will support the second set of tracks being added alongside the existing FEC tracks, which are bring upgraded to handle high-speed passenger trains. FEC freight trains travel 40-to-60 mph.
HSR Constructors also is in the process of building a 573-foot-long bridge over Interstate 95 in Brevard County for the tracks between Cocoa and Orlando International Airport.
The project has required periodic lane and ramp closures on I-95 and the Beachline Expressway/State Road 528.
Brightline is conducting signal testing along its tracks in West Palm Beach through July on its Positive Train Control system in anticipation of restarting service between Miami and West Palm Beach later this year.
Brightline operated trains on that stretch of tracks from January 2018 until March 2020, when it shut down in response to the COVID-19 pandemic.
Despite the recent activity along the tracks, Vero Beach and Indian River County officials said Brightline still has not notified them about the schedule for closing railroad crossings for construction.
"We have not received any updates or a timeline regarding construction from Brightline," said county spokeswoman Kathleen Keenan last Thursday.
Also up in the air is the location of a promised train station somewhere on the Treasure Coast, for which various cities are competing.