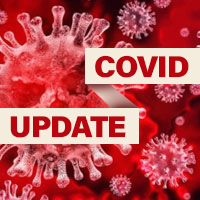 COVID-19 cases soar, quadrupling in just three weeks
STORY BY LISA ZAHNER (Week of July 22, 2021)

Indian River County has not escaped the nationwide surge of cases being attributed to the Delta variant of the COVID-19 virus, as new cases rose 73 percent this past week, going from 125 the week ending July 8 to 216 the week ending July 15.
The Indian River County Health Department could not confirm that the Delta variant has been documented in Indian River County patients – our questions were forwarded to the Florida Department of Health communications office instead of answered locally – but the numbers point to the more easily transmissible Delta variant.
At the end of June, the weekly case count here was 51, or roughly seven per day. Now that number has more than quadrupled to 31 per day.
The seven-day average of cases spiking 70 percent last week made national headlines, with Florida one of the states hit especially hard accounting for one in five cases nationally, according to CDC data.
The current daily average for new infections puts us about where we were in mid-April, except in mid-April there were a lot more people getting tested, as the positivity rate ranged from 4 percent to 7 percent on the typical day.
Four weeks ago, Indian River County's positivity rate was 3 percent, but now that number is 10 percent, with Florida's statewide number topping that at 11.5 percent.
Vaccinations had been trending downward this summer, with roughly 10 percent fewer people getting the shot each week, but last week that reversed a bit. The number of people vaccinated increased 24 percent from the previous week, likely due in part to the week ending July 8 being especially low due to the Independence Day holiday.
As of July 15, 65 percent of Indian River County residents age 12 and older had been vaccinated. On top of those 94,170 vaccinated individuals, another 13,352 have tested positive for the COVID-19 virus since March 2020.