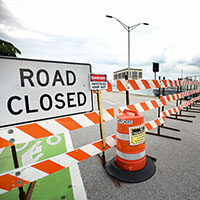 Construction on 17th St. bridge to drag into fall
STORY BY LISA ZAHNER (Week of July 1, 2021)

The 17th Street bridge will be under construction with limited traffic flow through at least October, when the first wave of seasonal residents returns to the barrier island.
The Florida Department of Transportation last fall said repairs on both sides of the bridge would take a total of six months, with the westbound side closed first until January, then the eastbound side closed through March.
But the westbound side wasn't closed until December, supposedly pushing the finish date back to June. It's now July, however, and work is not complete on the westbound side.
Meantime, no work has been done on the eastbound side, where one-way traffic has been moving for months in both directions. The $1.1 million project has taken twice as long as expected for the westbound side so far.
A June 25 FDOT construction update sent to Vero City Manager Monte Falls said work on the westbound side of the bridge is now expected to continue through July: "Eastbound and westbound traffic on the 17th Street Bridge is down to one lane in each direction around the clock through summer 2021 for bridge beam repairs. Currently, westbound traffic on 17th Street Bridge is diverted to the eastbound travel lane through July 2021," the update stated.
The bridge, completed in 1979 and named after Alma Lee Loy in 2012, was found to be in critical condition needing prompt repair in 2018 and was deemed structurally deficient in May 2020 according to FDOT inspection reports.
According to FDOT records, DBI Services was contracted to repair "spalls" in the concrete beams under the bridge, meaning that the bridge has been cracking and shedding flakes of concrete in certain places and the concrete needed to be shored up and repaired.
A request to FDOT for the reason for the delay, and whether the bridge was in worse shape than anticipated, was pending as of press time, as was a request for a detailed updated timeline for project completion.
But based upon projections that repairs would take three months for each side, if the westbound side re-opens at the end of July and construction begins on the eastbound side in August, the soonest both sides of the bridge would be open to normal traffic flow would be about Nov. 1 – if everything goes perfectly repairing the eastbound side.
That means one side of the bridge will be closed and under construction for most all of the remainder of the 2021 hurricane season.
Should a hurricane come our way and South Beach residents need both of the lanes on the one open side of that bridge to evacuate, Indian River County Emergency Services Director Chief Tad Stone said the county, under its duties in a declared emergency, would request that FDOT "contraflow the bridge," so more cars could get off the island faster.