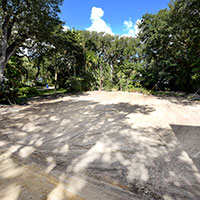 Demand for building lots mirrors the frenzy of the island housing market
STORY BY STEVEN M. THOMAS (Week of July 22, 2021)

A historically low number of homes for sale in Vero is driving a demand for building lots and custom homes that mirrors the frenzy of the housing market as a whole.
While some of the lots are being purchased by builders for spec homes that often sell before the foundations are laid, many are going to end-users – frustrated buyers who have given up on finding a resale home that meets their needs and decided to build.
"I am definitely seeing a greater demand for building lots," says Janyne Kenworthy, a broker associate with ONE Sotheby's International Realty who has sold two lots on the north island in recent months. "There are hardly any lots left in Ambersand and people are grabbing what they can because there are so few resale homes available."
"People are getting frustrated at not being able to find anything and making the leap to go ahead and build," says Berkshire Hathaway HomeServices agent Chip Landers. "It is both island and mainland. As soon as a lot is listed for sale, it's gone. In this market, I can sell building lots all day long."
"I have never busier in my life," says architect Tom Hoos, who designs high-end homes on the island. "I am having to turn down work, left and right, due to what is happening with the shortage of inventory.
"All the lots on Sunset Drive where I live have sold, and one guy is even splitting the lot he bought [to take advantage of the hot market]. He plans to build on one half and put the other lot up for sale."
The pressure of the land rush is being felt throughout the building industry, according to Janet Guthrie, a surveyor with Meridian Land Surveyors who was parked on Ocean Drive on Saturday morning, preparing to survey the prime oceanfront lot at 3746 Ocean Dr.
"We are absolutely slammed," she said. "People want these surveys done faster than we can get to them. We have never been busier."
"The demand for custom homes is as strong as it has been since the craziness in 2005 and 2006, which is to say as strong as it has ever been," says Joe Foglia, a longtime island builder who has four custom home projects in the works right now – in Central Beach, Old Riomar, Pebble Bay and The Shores.
Foglia says all four of his clients bought their own land and then contracted with him to build the dream homes they could not find in the resale market.
Besides the fundamental shortage of resale homes, brokers and builders say two other factors are helping drive the demand for custom homes – a shortage of new single-family homes on the island and the mainland, and the increasing cost and difficulty of remodeling.
"The builders are under the gun," says Kenworthy. "The buyers want houses now, but because of material delays and labor shortages the builders can't build them fast enough.  They've had to pace out their building. They're telling agents at their developments they can only write a limited number of contracts each month."
"We don't want to make a commitment to someone that we can't keep," GHO Homes president Bill Handler said last month when his company took over The Strand subdivision, where 30-some new homes will be built, noting that his build capacity will limit to some degree the number of contracts he writes in coming months.
In the past, buyers who could not find a new or resale home that met their needs sometimes bought fixer-uppers and remodeled to suit, but that is getting harder to do, too.
"Even if they are able to find something, it needs a lot of work to bring it up to the standards people want," says Hoos. "By the time you get done renovating, all you are saving in many cases is a slab and a roof."
"If a renovation project goes over a certain percentage of the home's value, the county requires you to bring the whole house up to code," says Kenworthy. That requirement can lead to much more extensive renovations than expected – replacing windows, roofs, wiring, plumbing and even raising a house in a flood zone – and tends to reduce the differential between what it costs to buy and renovate an older home and the cost of building something brand-new.
"The delta between the cost of renovating an older home and building a new custom home has really shrunk," says Foglia. "It seems like the resale homes people are able to find are either overpriced or need so much work to be at somebody's standards, that if they can find a piece of land, they say, 'We might as well build. It is going to be the same price and we will get everything we want.'"