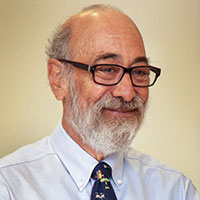 Dr. Dennis Saver, 'champion' for the vulnerable, dies at 68
STORY BY MARY SCHENKEL (Week of July 29, 2021)
Photo of Dr. Dennis Saver.

Dr. Dennis Saver, described by colleagues, patients and medical students he mentored as the quintessential old-fashioned family physician, passed away Wednesday, July 21 at age 68.
Saver moved to Vero Beach in 1990 and in 1994 was a founder of Primary Care of the Treasure Coast, from which he retired in September 2019.  Even after retirement, however, he continued to be the force behind We Care, the healthcare nonprofit he was instrumental in founding 30 years ago.
Under Saver's unwavering and compassionate guidance, We Care grew to provide medical treatments valued at more than $1 million annually to indigent and uninsured residents of our community, through its volunteer network of physicians and other health care professionals. 
In December 2015, with the support of the community, the organization opened the We Care Clinic in a wing of the Gifford Health Center that is staffed with a full-time primary care physician and support staff.
Saver also served as president of the We Care Foundation of Indian River County, which raises funds to purchase medical supplies and equipment their patients could not otherwise afford. 
In a recent Vero Beach 32963 health feature about the program's offer of free cataract surgeries, Saver told our reporter, "We Care is run entirely by goodwill. Our goal is to have our volunteer specialists feel so good and get so much pleasure out of helping people that they want to do it again and again."
It was a philosophy he personally embraced throughout an illustrious career that began as a 1977 graduate of the Medical College of Pennsylvania, and a residency at the University of Florida Family Practice in Gainesville.
Early in his career, his humanistic approach to medicine took him to the poverty-stricken, rural Appalachian town of Newburg, West Virginia, where he served for 10 years as a full-spectrum family care physician.
Cardiologist Dr. Arley Peter, Indian River County Medical Society president and We Care vice president, said helping people was more than a calling for Saver; it was a passion. 
"Truly, I think he's probably the most remarkable person in terms of teaching us how to give back; how to get together as a group of doctors to make this a better place by doing this extra duty," said Peter.
"He was an outstanding person and a very good man. He was very intense, very passionate and served the most vulnerable patients. He interacted with everyone – with the media, the hospital, local government, the health department. He really pushed in all directions to accomplish the single goal of making sure our vulnerable population gets health care," Peter added. 
As longtime leaders in the medical community, Ann Marie McCrystal said she and husband Dr. Hugh McCrystal frequently interacted with Saver. 
"Even in our community, which is so philanthropic and very wealthy, he saw that there was a need that some people didn't even realize existed.  He took it upon himself to make a difference. Dennis Saver went that extra mile for all patients in the community; he really did," said McCrystal.   
"He was not only a wonderful physician, but he understood that healthcare belonged to everyone, regardless of their ability to afford it. He was a champion among physicians and a champion for the vulnerable population; he was a champion for people," she added.
She recalled that in 1992, the hospital district had just purchased a mobile clinic to bring healthcare to underserved areas of the county, but Saver requested that its first run be elsewhere. Hurricane Andrew had just devastated Homestead and people were desperate for assistance.  Saver wanted to gather a group of physicians and nurses and take the new mobile clinic to Homestead. 
"And indeed, that's what he did. He devoted his whole life to patient care; not only his individual patients, but patients who could not afford care.  Even in retirement, probably knowing what his prognosis was, he worked at that We Care Clinic as a volunteer," said McCrystal.
Dr. Nancy Baker, a We Care volunteer for nearly 20 years, said Saver was her mentor, friend and personal family physician. She and husband Dr. Frederick (Rick) Baker met Saver during their residencies and were colleagues of his at Primary Care.
Among numerous other awards and honors, Saver was named Family Doctor of the Year by the Florida Academy of Physicians and the American Academy of Family Physicians. 
"That's doctor of the year for the whole country; for all of America," Baker emphasized.
As a Clinical Professor of Family Medicine at Florida State University College of Medicine, Saver was inducted into the Gold Medicine Humanism Society, which Baker said is the school's highest honor. She is working to establish a scholarship in his name.
Affectionately saying he could be "a little bit goofy," Baker said he festooned his stethoscope with little stuffed animals, wore attention-grabbing ties and had a great sense of humor. 
She added that whether treating babies or centenarians, his focus was always on what was best for the patient. "He was just always real and down to earth. Patients loved him."
Diana Stark, a longtime We Care supporter and a patient of Saver's, said she had experienced his devotion to care firsthand.
"Both of my dear late husbands, Al Osbahr and Dick Stark, and I were astounded by his commitment to all humanity," she said, recalling Saver making numerous house calls – a rarity in today's world – to treat Osbahr when he became critically ill.
"Nobody was doing that; it was just unbelievable," she said. "After I married Dick Stark, I described Dr. Saver as the angel that came to our home."
Dick Stark was another passionate advocate for the less fortunate, and Diana Stark said he soon lent his substantial support to We Care, but – astute attorney that he was – only after counseling that it be established as a 501(c)3 nonprofit, advice that Saver followed.
Stark fondly recalled Saver at the We Care Mardi Gras fundraisers, emceeing the festivities surrounded by long-legged samba dancers, adding: "He was always embarrassed, but he was putting himself out there for the cause."