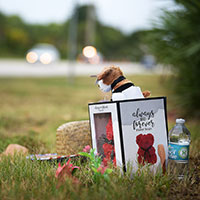 Driver in fatal A1A crash behind bars
STORY BY LISA ZAHNER (Week of July 29, 2021)
Photo: A1A roadside memorial where Michael Gianfrancesco and his dog were struck near The Dunes community.

Jamie Jarvonte Williams, the apparent driver who on Memorial Day ran down and killed South Beach resident Michael Gianfrancesco and his dog while they were walking along A1A, has been arrested and is being held without bond in the St. Lucie County Jail for violating his probation in a 2018 felony case.
According to St. Lucie County court records, an Indian River County Sheriff's deputy contacted Williams' probation officer on June 22 – three weeks after the crash, and five days after a Vero Beach 32963 article stated that Williams had been released by the Florida Highway Patrol even though he was on probation and not supposed to be in Indian River County on May 31 when Gianfrancesco was struck near The Dunes community where he lived.
A warrant was obtained on July 2 and 28-year-old Williams was booked into the county jail just after midnight on July 6. He is being held without bond while awaiting a violation of probation hearing before Judge Lawrence Mirman.
The Florida Department of Corrections has alleged that Williams left St. Lucie County without the consent of his probation officer, and that he did not provide a true and truthful report to his probation officer since he failed to disclose the May 31 crash-scene contact with law enforcement on his monthly probation check-in form filed on June 7.
Court records show he left that answer space blank. Williams denies both allegations, according to a pleading filed by his public defender on July 9.
Interestingly, one of the answers Williams did fill in on the form was in the "Action steps I took last month" portion where he answered, "Do the right thing." As part of his probation goals, Williams wrote that he wants to get a good job and buy a house before he is 35.
One question asked, "Do you have a problem or concern you would like to discuss with your probation officer?" Williams answered "No."
Assistant State Attorney Bill Long confirmed last week that State Attorney Tom Bakkedahl's office is working on developing a case around the fatal events of May 31 with several different agencies, but FHP is still the lead agency on the vehicular homicide. The violation of probation case in St. Lucie County runs on a parallel course with the FHP investigation.
Long said he expects the investigation to move forward toward prosecution "in not too much time" but he could not give an estimate in weeks or months. He said he's been updating the Gianfrancesco family on the progress of the case – including the violation of probation charges lodged against Williams in St. Lucie County by the Florida Department of Corrections.
Though it will take time for the vehicular homicide investigation to wrap up, there are a few other aspects of the case that might cause Williams some more immediate trouble. When asked about the firearm and drugs found on the scene, plus the convicted felon deputies reported was riding in the back seat of the car, and the reckless caravan of vehicles Williams was traveling in being clocked at 108 miles per hour northbound on A1A, Long said it's possible the charges could be expanded to include more ways that Williams violated his probation, based upon the outcome of the investigation.
The Florida Department of Corrections would need to amend the violation of probation warrant, Long said.
Describing the violation of probation court process in general, Long said the judge will consider the totality of the facts of the case when determining what sentence would be imposed should Williams be determined by the court to have violated his probation from the 2018 felony conviction.
The original charges Williams was facing in 2018 were carrying a concealed firearm, attempted tampering with evidence and resisting arrest without violence. He had served 10 months of a 24-month probation at the time of the fatal crash.