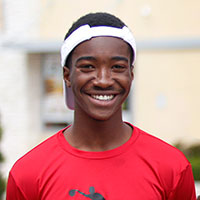 Drowning death of St. Ed's senior in April ruled 'accident'
STORY BY RAY MCNULTY (Week of July 22, 2021)

An autopsy performed on Bidensky "BT" Termidor revealed the St. Edward's School senior had a blood-alcohol level above Florida's legal-driving limit and evidence of marijuana use in his system when he jumped off an on-campus dock and drowned in the Indian River Lagoon in late April.
Despite those findings, 19th Circuit Chief Medical Examiner Patricia Aronica ruled Termidor's death an "accident" and said she was unable to determine whether the alcohol and tetrahydrocannabinol (THC) in the victim's blood were factors that contributed to his death.
"What I can say, for sure, is that he drowned, and it was an accident," Aronica said. "I can also say he had alcohol and THC in his blood at the time of death."
According to the toxicology report included in the autopsy, Termidor had a blood-alcohol content of .083, just over the state's .08 limit to drive legally.
The drowning occurred at about 3 p.m. April 30, when St. Edward's seniors embarked on a last-day-of-class rite of passage that began spontaneously nearly 15 years earlier.
After attending an assembly, Termidor, who was 18, and his classmates ceremoniously completed their "Senior Walk" along the school's outdoor halls, then ran to the campus dock and joyously jumped into the lagoon.
Police and witness reports stated that four to 10 minutes passed before anyone realized Termidor hadn't resurfaced, and people frantically began searching for him.
Termidor's body was submerged in 6 to 10 feet of water for about 20 minutes before it was discovered and lifted onto the deck, where efforts to revive him failed. A county Fire Rescue crew arrived quickly and transported him to Cleveland Clinic Indian River Hospital, where doctors later pronounced him dead.
Aronica said she couldn't determine how Termidor consumed the THC – smoking marijuana, vaping or ingesting edibles – or how long the substance had been in his system.
She also said she couldn't presume his level of tolerance for alcohol or THC, or how they might've impacted his judgment or behavior.
"I don't know if they played a role in the accident or not, because I don't know how he would react to having those ingredients active in his system," Aronica told Vero Beach 32963 last week. "Different people react differently."
Termidor's parents could not be reached for comment on the autopsy results, and a cousin said the family "just wants to move on."
However, Termidor's family has sent a letter to the St. Edward's board of trustees notifying them that it has retained an attorney with the intention of filing a wrongful death claim against the school.
On Monday, in response to Vero Beach 32963's request for a comment on the autopsy report, St. Edward's communications director Monica Jennings said via text message: "Seniors at St. Edward's have off-campus privileges that BT availed himself of that day. We are unaware of what BT may or may not have done off-campus."
She wrote that there was no information in the report about how BT ended up in the water, stating, "Any speculation is pure conjecture," then adding that the school can't comment further because law enforcement hasn't yet completed its investigation.
In the days following Termidor's death, many in the St. Edward's community speculated that he might've been accidentally struck by one of his 50-plus classmates – possibly being knocked unconscious or having the wind knocked out of him – after he and other seniors jumped into the lagoon as part of the school's traditional graduation celebration.
Apparently, though, there was no underwater collision.
During the autopsy, which was performed May 3, Aronica found no signs of trauma or injury – internally or externally – on Termidor's body.
"If it did happen, I couldn't find it," she said. "That doesn't mean someone didn't make contact with him, but I didn't see any evidence of it."
The autopsy report states, in fact, that Aronica's external examination revealed that Termidor's nasal area was "intact," his lips were "without evident injury," and there were no signs of trauma to his neck, chest, ribs or sternum.
The only visible mark was a "half-inch faint pink abrasion on the left side of his forehead."
In addition, an internal examination showed no evidence of "blunt force or penetrating injury" to Termidor's chest and abdominal region, and there were no signs of brain or spinal hemorrhaging, the autopsy report stated.
It was obvious, though, that Termidor drowned.
The autopsy revealed his "lungs were fluid-filled" and there was a "murky brown fluid" in his sinus cavity. Aronica also found "shell-like material" in his esophagus and stomach," almost certainly from the lagoon floor.
Termidor was a beloved, two-sport athlete who was about to graduate with honors and continue his education at the University of North Florida on an academic scholarship.