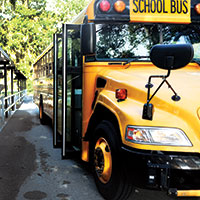 Fall enrollment up at Beachland Elementary School
STORY BY GEORGE ANDREASSI (Week of July 22, 2021)

Beachland Elementary School anticipates welcoming an additional 34 students when the new school year starts Aug. 10, increasing the total number of students to 548.
Enrollment at the barrier island's only public school has increased by 15 percent since 2018-2019 when there were 477 students, records show.
The 69-student jump in enrollment in the past three years at Beachland, an A-rated school with an average daily attendance of 95 percent, stood out among the county's 13 elementary schools.
Other county schools that saw sizable increases in their enrollment in the past three years were Osceola Elementary with 36 additional students and Liberty Elementary with 24 additional students.
Overall, Indian River County public schools expect 17,406 students to show up for the new school year, an increase of 1.8 percent compared to the recently completed COVID-19 pandemic year.
The upcoming school year will bring a new sense of normal to public schools as face masks will be optional and most regular routines will be reinstituted, said Schools Superintendent David Moore.
"We've got to be intentional about greeting kids back ... this is normal, or as normal as normal can be in this new reality," Moore said Friday. "It's a very exciting time to come back and almost be normal."
The new normal includes the addition of an eighth period to the school day at secondary schools, so more elective classes can be offered, Moore said.
Turning to the budget, Moore proposed a $324 million budget for the 2021-2022 school year, an increase of $13 million or about 4 percent compared to the recently completed year, records show.
The Florida Board of Education and the school district combined to recommend a school property tax rate of $6.26 per $1,000 of assessed value, a reduction of 2 percent compared to 2020-2021.
The proposed decrease of nearly 13 cents in the school district's property tax rate translates into a $25.60 reduction in the school tax bill for the owner of a home with a taxable value of $200,000.
The school tax bill for such a house would decrease to $1,253.60 from $1,279.20, not counting a 3 percent increase in taxable value under the state homestead cap.
A public hearing on the budget and tax rate was set for 5 p.m., Tuesday, July 27. The final public hearing will be held on Sept. 9.
The school district plans to spend $36.5 million operating its three high schools – $18 million for Vero Beach, $12.9 million for Sebastian River and $5.6 for the charter high school, records show.
The district budgeted $3.7 million to operate Beachland Elementary, which is in line with the district's other 12 elementary schools.
The school district intends to increase spending on buildings and facilities by 9 percent to $55 million to cover costs of upgrading playground equipment and shade structures, as well as conduct more maintenance and renovations.
The district also budgeted $2.8 million to renovate and expand the cafeteria at Glendale Elementary School in Vero Beach and $650,000 to renovate a culinary program kitchen at Treasure Coast Technical College.