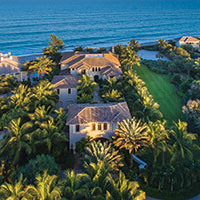 Indian River Shores estate sells for $22 million sight unseen
STORY BY STEVEN M. THOMAS (Week of July 29, 2021)

Famed money manager Dennis Stattman demonstrated his Midas touch last week when he sold his Indian River Shores estate for a cool $22 million to a California businessman purchasing it as a vacation spot.
The out-of-town buyer – who paid $12 million more for the oceanfront property at 10 Ocean Lane than Stattman paid in 2017 – purchased the estate without ever viewing it in person within a day or two of seeing an online link sent to him by his agent, Susan Rane of Keller Williams.
The sale continues a trend of dramatically rising oceanfront prices on Vero's barrier island, as wealthy buyers from South Florida, the Northeast, California and other locales jet into town to purchase world-class waterfront homes that would cost much more in the places they come from.
"We had more showings of this house than any other ultra-luxury property we have ever listed," says Premier Estate Properties broker associate Cindy O'Dare, who with her partner Richard Boga represented Stattman. "From the moment we put the listing in the MLS in April and started our ad campaigns, there was tremendous interest and we ended up with multiple offers."
The home's $22 million price tag – the second-highest island real estate sale in history – seems staggering by some measures, but O'Dare says it's a bargain compared to what similar homes are going for just 80 miles to the south in Palm Beach.
There, a house the same size as 10 Ocean Lane that sits on a slightly smaller piece of land sold for $127 million earlier this year.   And that was just one of the 35 home sales over $30 million in Palm Beach so far this year, including another exceeding $100 million, according to the Wall Street Journal.
If a buyer in California searches for luxury homes in a certain price range on the east coast of Florida, he or she sees those Palm Beach palaces right alongside Vero properties of similar caliber that cost much less.
That was the case with the buyer in the $22 million sale, according to Rane.
"He was looking in the Palm Beach area and was aware of prices there. At least partly because of that, he saw real value in the Vero property," says Rane, one of five founding agents at Keller Williams Luxury Group on the island.
He saw value in Vero Beach, too. "He had never been here, but I am good at selling Vero, helping people understand how special it is, and he got that," says Rane.
"When I first showed him the house, he loved it and said he would fly in later in the week to look at it. That same day, he called back and said he'd decided he didn't need to see the house and wanted to go ahead with the purchase immediately.
"He is very savvy and knows how tight the market is and didn't want to lose the house," Rane said.
Built by Cal Builders in 2009 for William Sanger, former CEO of Envision Healthcare, and his wife, Janice, the 13,514-square-foot house sits on a 2.36-acre site with 216 lineal feet of ocean frontage. (The $127 million Palm Beach house is 13,300 square feet on a 2.25-acre parcel.)
The Vero house comes with six bedrooms, 10 bathrooms, four fireplaces, a two-story den/library, an oceanfront infinity pool and an extensive suite of additional high-end features and finishes.
When Concierge Auctions sold the house in 2017, it described the property as "a rare find ... this oceanfront estate is seemingly worlds away with picturesque palms, grandiose gardens, and vibrant views. The Mediterranean-inspired estate boasts the best of indoor/outdoor living with expansive lanais, walls of windows, and an airy interior designed by Architectural Digest award-winning Marc-Michaels Interior Design. From the coffered and tray ceilings and mosaic-inlaid travertine marble floors to the two-story mahogany library and acoustically designed theater, no detail has been forgotten."
Even with that description, the house fetched a mere $9 million at auction, with Stattman the winning bidder.
"Including the 12 percent buyers premium and other costs, he actually paid right at $10 million," says Boga.
For that price, Stattman got the luxe mansion on its 1.18-acre lot along with an identical adjoining lot laid out as a garden.
O'Dare says Stattman, who owns several homes, has lived in the house much of the time since buying it, though county records show he did not get a homestead exemption. She says he sank a couple million dollars into extensive upgrades after the purchase, redoing much of the house, including kitchen, bathrooms, fireplaces and landscaping.
Factor in those renovations and carrying costs over 4 ½ years and the former Blackrock executive cleared something like $10 million in the deal, better than 20 percent a year on his investment.
That's an even stronger return than the exceptional results he achieved as Senior Portfolio Manager of the $50-billion-plus Blackrock Global Allocation Fund, which he co-founded at Merrill Lynch in 1989, and where he was lead portfolio manager for more than 20 years before his retirement in 2017, the same year he bought 10 Ocean Lane.
When he was ready to sell in April, Stattman listed the house with O'Dare and Boga for $24.9 million, triggering the land rush of interest and offers O'Dare describes.
Kane's California client fell in love with the property via the Internet and made an offer that led to what Kane calls the "smoothest transaction I have ever been involved in.
"Everything came together almost effortlessly," she says. "Everyone was amiable and easy to get along with. It was wonderful."
Kane declined to identify her client but says he has "an extremely successful business" and numerous homes.
The biggest project on his plate right now is launching a philanthropic enterprise to upgrade educational opportunities across the U.S. with a special focus on struggling school districts, according to Kane.
She says the Vero house will not be his residence but rather a vacation getaway spot.
As far as she knows, he doesn't plan to build on the extra lot.
"This was my biggest transaction ever," Kane says. "My father who passed away recently was a real estate agent and I tell people he must have orchestrated the deal from above!"
O'Dare and Boga closed a $25 million transaction on the island last summer, so this was not their biggest deal, but it contributed handsomely to their yearly sales total, which has now exceeded $180 million according to Boga. That year-to-date number surpasses the partners' top whole-year sales total of $168 million, which they achieved in 2015.