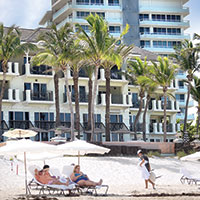 Island hotels agree: 'Things couldn't be going any better!'
STORY BY STEPHANIE LABAFF (Week of July 29, 2021)

After a scary shortage of guests during the pandemic summer of 2020, island hotels are back on track, fuller in some cases than they have ever been at this time of year and booked well into the future.
The big resort hotels are thriving, and small hotels are packed, according to multiple interviews conducted last week by Vero Beach 32963.
"Things couldn't be going any better," said Boris Gonzalez, Caribbean Court Boutique Hotel owner. "We're busier than ever. We've had the best April, May, June and July since 2007."
"We're sold out through August," reported South Beach Place manager Nikki Barroso.  "Our high season is already sold out too."
Barroso said that in prior summers, there were weeks when only one room was rented, and she would offer packages to attract guests. This year, guests are even booking during September and October – peak hurricane months.
"We have several family reunions in September, weddings in October, and November is almost sold out as well. People are coming and staying longer. They just want to come to the beach and relax," said Barroso.
Jeff Cloninger joined the ranks of island hotel owners with the purchase of the Seaspray Inn on Ocean Drive this past April. The Palm Beach real estate broker has been pleasantly surprised to find the inn too busy for him to proceed with planned renovations.
"We have not dipped below 90 percent occupancy since the day I bought it, and that's including weekdays, which is phenomenal for the off-season," Cloninger said. "We're basically sold out every weekend, and we are in the 90th percentile occupancy during the week. Business has been much busier than expected."
Prestige Hotel, also in South Beach, was one of the hardest hit during the pandemic due to its traditional reliance on overseas visitors, but it is fully booked this month.
In past years, more than 60 percent of the hotel's guests came from Germany and France, and travel restrictions brought those bookings to a standstill during much of 2020, according to general manager Edyta Zachariasz.
This summer, guests are coming "from all over the U.S.," said Zachariasz. "They just want to be on the beach. They don't care about the room; they want the beach. They've been stuck in the house for so long."
Kimpton Vero Beach Hotel and Spa general manager Awet Sium said he is surpassing pre-pandemic numbers at his hotel, where rooms are $400 or more a night. "We're doing better than last year and the year before, with this year looking like it might be our best ever."
Sium added that guests are beginning to book further out, too, even into Christmastime.
At Costa d'Este, general manager Chad Olson said he's seeing similar summer traffic. Most of his guests travel within Florida, with people booking earlier than they did last year.
"Our pace in September, October and November is up compared to what it normally is," Olson said. "We're seeing a lot of the corporate groups that have been on hold booking during that time period, which is unusual."
Another trend showing things are returning to normal, he says, is the return of room service revenue to pre-pandemic levels. "Last year at this time, room service was up 300 percent," said Olson, with guests staying put at the hotel instead of venturing out to dine.
This summer, guests feel confident enough to leave the hotel to visit island restaurants and shops.
The two timeshare hotels on Ocean Drive – Driftwood Inn and The Reef – can hardly keep up with their guests. Timeshare owners are using their "weeks" in record numbers, whereas last year and even into 2021, most were putting their time slots up for rent instead of using them.
Not so now, said The Reef Ocean Resort general manager Debbie Hughes. "Sales are up, rentals are up, and people are positive. We're doing fantastic with the rentals."
Driftwood Resort owner relations manager Zach Zebrowski said "we're having a great year. Our owners are using their units at a higher rate than normal, so we have very little rental available. It seems like it has never ended this summer."
Eager to secure lodging, Zebrowski said callers inquiring about availability don't ask for discounts as they have in the past during the summer months. "They are happy to scoop up whatever rooms are available" at the going rate.
Government statistics back up what hotel owners and managers say, with the county's June Tourist Tax report showing revenues have increased by 29.8 percent over last year at this time, putting them above projections for the year.
The main areas of concern for hotels right now, industrywide, continue to be difficulty finding enough qualified workers and dealing with supply shortages and delays.