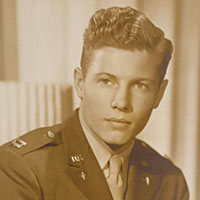 Kenneth Earl Padgett, visionary developer, dies at 100
STORY BY STEPHANIE LABAFF (Week of July 8, 2021)

Kenneth Earl Padgett, a longtime resident of Vero Beach who was developer of the island Holiday Inn, the South Beach community of Seagrove, and known as a visionary with a 'Midas touch' for real estate, passed away on June 30 at age 100.
Padgett was born on April 24, 1921, in Panama City, Florida, flew the China-Burma-India route over the Himalayan Mountains as an Army Air Corps pilot during the World War II, and was a foundational developer in the Florida Panhandle and Vero Beach.
The purchaser late in life of Bay Bank and Trust, Padgett pledged 10 percent of the bank's earnings to local charities and civic organizations.
"Because of his ownership of the bank, he was instrumental in financing Quail Valley River Club, both personally and through Bay Bank," said his daughter Cathy, illustrating another important impact Padgett had on the island and Indian River County.
"He was a friend of our family for over five decades, and we valued and treasured the relationship," said Dale Sorensen Sr., founder of Dale Sorensen Real Estate. "A few months ago, we attended his 100th birthday party. He was witty and charming and made a wonderful talk that touched all that were there."
"He was acutely aware of the finitude of this life on earth, and he pursued everything with great intentionality," said one of his granddaughters.
Serving as an Army Air Corps pilot during the Second World War, he was among those who flew the "Hump," the China-Burma-India route over the eastern Himalayan Mountains – a 530-mile, treacherous flight over rugged terrain, often through extreme weather. More than 1,000 men and 600 planes were lost crossing the mountains.
By their bravery and determination, Padgett and his fellow pilots contributed significantly to winning the war in the Pacific. He received numerous medals for his distinguished service and had the distinction of being one of the last known living pilots to have navigated the "Skyway to Hell."
After the war, Padgett returned to Panama City, where he met and married Sarah Williams Padgett, the woman who, for the next 77 years, family members lovingly referred to as his "co-pilot." 
The couple raised three children: Carolyn Hotham, Cathy Padgett and a son, Kenneth Earl Padgett Jr., who preceded his father in death. Padgett also leaves behind six grandchildren and nine great-grandchildren.
Padgett was a successful and well-respected businessman who was considered a pioneer among his contemporaries.
His daughter, Cathy Padgett, reflected on her father's business acumen, recalling his belief that everything needed for a business deal should fit on a 3-inch x 5-inch index card, along with a handshake.
"That's the way he thought a deal should work," she said. "He's from the greatest generation."
Padgett discovered Vero Beach during a family road trip. "He'd drive until he found a place he liked and then stop," said Cathy. "He came down Route 60 and turned left. He came to the ocean and said, 'This is beautiful. I like it and I want to be here.'"
"I first met Mr. Padgett in the early 1970s, shortly after he came to Vero Beach to build the Holiday Inn.  It was very obvious that he was a man with great vision as well as an uncanny ability to find and develop quality properties," recalled Sorensen, who at the time worked for the multi-industry conglomerate Gulf and Western.
"We were beginning to develop Casa de Campo in the Dominican Republic," Sorensen said. "Our president, Alvaro Carta, thought so much of Mr. Padgett he flew him to the D.R. to consult with us on the hotel construction projects."
Considered a visionary in his field, Padgett developed the first subdivisions and lodges on Panama City Beach; most notably Woodlawn, the Holiday Lodge Fishing Resort, and Pirates Cove Marina. After moving to Vero Beach in 1973, Padgett continued his development activities, starting with the Holiday Inn in Central Beach.
"The Holiday Inn was more than just an oceanfront hotel; it was a fine resort with a first-class restaurant," said Sorensen about the early days of hotel that still welcomes guests next to Sexton Plaza. "One of its managers once shared with me that it had the highest percentage occupancy of any hotel in the chain."
Cathy added that her father's Holiday Inn ranked among the top five hotels in the chain and maintained a 98 percent occupancy rate. "That was our guests' winter home. We all became a family, and a lot of those people ended up buying homes here. What my father did brought a lot of people to Vero."
Speaking to her father's integrity, Cathy noted that when he came to Vero, there weren't any zoning regulations prohibiting him from building the hotel as high as he wanted. "He wanted to keep the charm of Vero as it was and make only positive changes." An absence of high-rises is something considered part of Vero's charm today.
Padgett would go on to own numerous oceanfront hotels in Vero Beach and secure the franchise rights to Holiday Inns in Cuba.
"It's too bad that didn't come to fruition," Cathy said.
Padgett considered the development of Seagrove his crowning real estate achievement. After creating it, he resided in the ocean-to-river community until his passing. His love of the ocean and the natural beauty of Florida were the inspiration for the development.
Padgett achieved his goal of preserving the beauty of the property – a place he and Sarah could enjoy with their family in the ensuing years.
"We often commented that when it came to real estate, Mr. Padgett had the Midas touch," noted Sorensen.
Those who knew him well affectionately recalled Padgett's "need for speed," whether on a bike, boat, car, or in his beloved Falcon aircraft, which he continued to fly well into his 80s.  It was noted that Sarah could often be heard telling Padgett to slow down, but to no avail.
"He was a visionary in business and society," said Padgett's grandson, Frank Howard. "He was a man of the people. He didn't see black or white. He judged people by their character, commitment and integrity. From the Model T to the Great Depression to iPhones and electric cars, my grandad saw it all. What a life."
Padgett lived his life on his own terms to the very end, saying his final goodbye to his lifelong love with a kiss on her hand and a final "I love you," before passing.