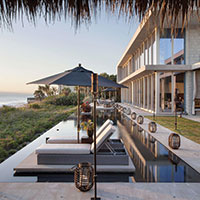 Massive home on Ocean Drive sells for $16.8 million
STORY BY STEVEN M. THOMAS (Week of July 8, 2021)

An oceanfront home once listed for $35 million – a record asking price for Vero at that time – sold last week for $16,813,000.
The seller was businesswoman and developer Katherine McConvey, who completed the house as a personal residence in 2014 and later decided to offer it for sale, testing the market with a price never before seen on the island.
The buyers are a couple from California with several children who love the home's dramatic, modern architecture and the in-town location, according to listing agent Kay Brown of Premier Estate Properties.
"When they flew in to look at the house the first time, it got to be dinnertime and I told them they could just leave their car at the house and walk down Ocean Drive to eat, which they really liked," Brown says. "They had a young boy with them, and I told them where they could get him some ice cream as well."
Brown has been involved with the home at 3700 Ocean Drive from the beginning.
"I helped Katherine find the land when she was looking for a place to build. The property wasn't for sale, but I called the owners of the two lots, and we put the deal together in 2011."
Construction of a spectacular residence on the 1.4-acre parcel with 200 feet of ocean frontage got underway in 2012.
Designed by Jared Della Valle of New York-based Alloy Development, which is co-owned by McConvey, and built by Joe Foglia of Foglia Custom Homes, the project literally stopped traffic as it was going up, with small crowds gathered along the street to watch progress and debate the virtues of the 8-bedroom, 12-bath, 18,000-square-foot modernist masterpiece that has since disappeared behind a wall of palms and other plantings.
Completed in the summer of 2014, the house set a new standard for residential design in 32963 and started a trend toward modern architecture on the island that continues today.
When McConvey put the house on the market for $35 million in 2015, it made news nationwide, with write-ups about the home's design and record-breaking offering price in Architectural Digest, the Wall Street Journal and other publications.
"I built this house thinking I would stay here forever, and then decided, 'Let's see if it will sell,'" McConvey told the Wall Street Journal at the time. "I do think it will sell."
It didn't at that price, and the ask was reduced to $29.9 million in 2017, $21.9 million in 2018 and, finally, to $19.9 million in August 2020, which eventually attracted the California buyers.
In the meantime, McConvey enjoyed living and entertaining in the exceptional residence she created.
"She poured her heart and soul into building that house," Brown says. "It is a fabulous house she designed for family, friends and fun. She has had as many as 25 people staying there."
"I was very impressed with Katherine's design team, the way they were able to bring so much warmth and hominess into a very modern structure," says Foglia, adding that it took 21 months to complete the house.
"That place is still cutting edge, seven years after we finished it," he says. "It was a privilege to be part of such an outstanding project."
McConvey is the founder of KMM Telecommunications, a company with hundreds of million in annual revenue that provides material and logistics to the telecom industry. She's also the founder of Alloy Development, where she, co-founder Jared Della Valle and their associates have done more than $1.6 billion in mostly residential redevelopment in Brooklyn.
"Now she wants to create something else a little different," Brown says. "She loves Vero Beach and is looking for an exciting new project here to work on."