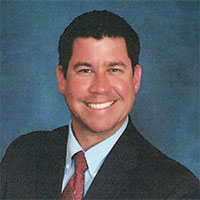 Pete Sweeney heir apparent to post of Shores Town Attorney
STORY BY LISA ZAHNER (Week of July 15, 2021)
Photo of former Fort Pierce City Attorney Pete Sweeney.

Fort Pierce City Attorney Pete Sweeney was the only applicant interviewed out of five lawyers who applied to replace Indian River Shores Town Attorney Chester Clem, so while he has not been hired yet, it seems the decision is a formality at this point.
Sweeney, a longtime Vero Beach resident, resigned from his post as top legal counsel of the City of Fort Pierce on May 20, giving the city 90 days' notice, before interviewing with each of the five Shores Town Council members.
The Shores job is only part-time, but Sweeney will also have a new full-time position as a member of Block and Scarpa law firm on Miracle Mile in Vero, where Chester Clem's daughter Mary Kate Clem is an associate.
Should the council vote next week to hire him, as expected, Sweeney is eager to get started and available to start work for the town as soon as Aug. 1, he said on Monday.
"I am extremely honored and excited to have the opportunity to be the next town attorney for Indian River Shores. Having met all of the council members and being familiar with town manager Jim Harpring, I do not believe I could ask for a better group of educated and experienced individuals to work with."
Prior to serving Fort Pierce for two and a half years, Sweeney was Palm Bay's assistant city attorney. Shores Mayor Brian Foley said on Monday that Sweeney's solid, full-time municipal experience serving much larger cities demonstrated to him that he could handle whatever might arise in the town's legal matters.
"I am delighted that we will have a professional with Mr. Sweeney's skill joining us as our new town attorney. His tenure as Fort Pierce city attorney ensures he has the breadth of experience required by the position.
"I was also impressed that he researched in advance many of the important issues confronting the town so he may hit the ground running," Foley said, adding that the council must still vote next week.
The town council turned over responsibility for vetting candidates to Town Manager Jim Harpring, also a practicing attorney with knowledge of the local legal talent. Knowing all five council members would need to schedule individual interviews with any finalists separately due to Florida's Sunshine laws prohibiting more than one council member from being in the room at a time, Harpring narrowed down the field to one person who rose to the top of the applicants to see if that person was a good fit with the council.
Interviews were conducted throughout June around members' travel schedules.
Sweeney is Florida Bar board certified in city, county and local government law and in construction law, and has worked the past nine years as a full-time governmental attorney. A Florida State College of Law graduate, he has 17 years of experience.
Before focusing on municipal law full time, Sweeney worked for eight years as a litigation associate at the Vero Beach firm of Clem Polackwich Vocelle and Berg. Now just Vocelle and Berg, that firm is representing Indian River Shores in a breach of contract lawsuit with the City of Vero Beach.