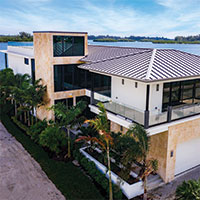 Prime lots, great river views, but few houses
STORY BY STEVEN M. THOMAS (Week of July 8, 2021)

Grand Harbor is the scene of the Great Vero Real Estate Mystery of 2021.
For reasons unknown, 142 prime ready-to-build lots – many with some of the prettiest riverfront views to be found anywhere around – are being allowed by GB Vero Beach Development to lay fallow during the strongest seller's market in memory.
"It is kind of confusing," says Grand Harbor Club general manager Michael Gibson."You are in the middle of the biggest housing boom in the history of the world, and it is hard to understand why any developer would be sitting on their hands and not building."
GBVB construction manager Cameron Luedke, who just finished the last new home available in Grand Harbor, a luxurious riverfront villa, says new home starts there wound down last summer as the second COVID-19 surge cast a dystopian pall over the country.
Since then, the developer has been completing homes already started, including the modernist villa on the river, which just got its certificate of occupancy and is listed for $2,995,000 by ONE Sotheby's broker associate Michael Thorpe.
Thorpe says, as he understands it, the developer isn't building new homes because the company "is in the process of selling all the remaining land and lots. They have had a couple of people in the running and had it under contract."
Doug Sweeny, past president of the Grand Harbor Members Association, echoes Thorpe. "We've heard they are in the process of selling the remaining lots through CB Richard Ellis. The developer hasn't told us anything, so we don't know for sure what is happening, but we have some people we know at the brokerage who say they are very close to deal."
But Luedke says he is not aware of any impending deal and speculated that the delay could be related to COVID-19 or the drastic spike and ongoing volatility in the cost of building materials, which make it hard to accurately estimate the cost of building a new home and come up with a realistic listing price.
"The only thing they have said to me, is that 'everything is always for sale,'" Luedke says, quoting company executives.
One thing that's certain is the lots in question are listed for sale on the CBRE website along with two other Grand Harbor tracts.
According to the website, "There are 5 separate Grand Harbor neighborhoods for sale ... comprised of a total of 142 finished single-family residential lots, 4.45 acres of residential land proposed for 56 multifamily units, and 12.45 acres of commercial land."
Breaking down the finished lots, the site lists 72 lots for sale in The Reserve subdivision at the northern end of Indian River Boulevard, where homes go for $1 million and up; 42 lots in The Falls, a large subdivision laid out across from Grand Harbor's main gate between Indian River Boulevard and U.S. 1.; and 22 lots in Laguna Village, where the new waterfront home just became available.
The multifamily tract, known as Osprey Village, is a proposed condominium project that has not been started.
"From what we have heard, the deal in the works does not include Osprey Village or the commercial property," says Sweeny.
The brokers representing the Grand Harbor properties did not respond to inquires from Vero Beach 32963.
GB Vero Beach Development, a Carl Icahn entity, took over new home development in Grand Harbor sometime after Icahn Enterprises acquired the community in 2004 and built some number of homes, but construction came to a halt during the real estate downturn that began in 2007.
In 2016, the company resumed development, announcing commencement of four subdivisions to be built simultaneously within Grand Harbor: The Falls II, The Reserve, Laguna Village and Osprey Village.
Numerous spec homes were built in The Falls and The Reserve, but just one in Laguna Village and none in Osprey Village.
Some of the homes were eventually listed with Thorpe, who says they sold briskly during the pandemic.
"I had 24 homes for sale last August; now I only have one, the Villa in Laguna Village," Thorpe says. "We were selling a house a week at one point this spring."
Sweeny says he and other members of Grand Harbor Golf & Beach Club "would like to see the three subdivisions already underway completed."
Club members recently bought the club from another Icahn entity and are in the process of revitalizing and adding to recreational and dining amenities.
"We have a bunch of things on the drawing board for the club, and we would love to have a new developer come in and sit down with us and have a conversation to get them to invest along with us and encourage their buyers to join the club," Sweeny says.
"We are gung-ho to have somebody start moving dirt," adds Gibson. "We would love to see it built out and hopefully add to our membership."
In the meantime, the one new home available in the community is attracting favorable interest and serving as an advertisement for Grand Harbor's resort-like lifestyle.
The 4,700-square-foot, 5-bedroom, 5.5-bath, two-story house with a rooftop deck sits right on the river with wide, unobstructed, protected water views.
Most of the western shoreline south of the home is conservation land owned by The Indian River Land Trust, and Luedke says "that far shore is an aviary. It will never be built on."
The architecturally dramatic house exemplifies the shift toward modernism in the high end of the Vero Beach market that began eight or 10 years ago, and has become predominant on the oceanfront, especially in the Estate Section where many of the most expensive homes in Vero are located.
"Almost everything being built down there is modern design," says Luedke, who codesigned as well as built the $3-million house at 4844 S. Harbor Drive. "The difference is you can get this one for half of what you would pay on the island for something this size. That and this house is probably more luxed out. We went over the top with the features and finishes. And it is ready to move into tomorrow."
Luxury details include a 10-foot tall, solid mahogany entry door, 8-foot high, solid white oak interior doors, a floating white oak and glass staircase, a double waterfall marble island kitchen, travertine pool and patio deck, and a rooftop lounge and dining area with a deluxe outdoor kitchen and stunning, 360-degree views of the Indian River Lagoon and Grand Harbor community.
"People absolutely adore the rooftop," says Paige Verhoeven, Thorpe's marketing manager. "There is so much room and the kitchen they put up there is phenomenal. People have responded really, really well to that."
Thorpe says there has been strong interest from "high-net-worth clients looking for a second home," including a potential buyer who owns a company that builds mega-yachts and another who owns an aerospace company.
"I absolutely love it," says Premier Estate Properties broker associate Cindy O'Dare, who showed the property to one of her clients recently. "It's a great house!"
There's room for 22 similar luxury villas in the riverfront subdivision whenever someone is prepared to build them. And in a market where inventory is exceptionally tight and homes are getting as many as 20 offers, they would likely sell in short order.
Luedke says that, if in fact the subdivision is not on the verge of being sold, the sale of the existing house might stimulate GBVB Development to start additional spec homes in Laguna Village.
"I could start two more tomorrow, if they call and give me the go-ahead," he says.