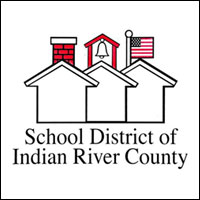 School district is joining forces with Foundation
STORY BY GEORGE ANDREASSI (Week of July 8, 2021)

The school district has partnered with the Education Foundation of Indian River County to try to tap into the wellspring of philanthropy on the barrier island to help pay for new school facilities and advanced programs.
It seemed more efficient to work with the independent foundation that has provided money for public and private schools for three decades, rather than starting a new foundation from scratch, said School Superintendent David Moore.
Education Foundation Executive Director Douglas Herron and the school district's director of instructional innovation, Cindy Emerson, have been working together for several months to improve coordination between the two agencies.
School administrators were in the process of creating a new  foundation to support the district when new leaders in both organizations realized they could work well together, Moore and Herron said.
In conjunction with the Education Foundation's new focus on raising money from different sources and developing relationships with island philanthropists, the school district will assume responsibility for running the annual Science and Engineering Fair, Moore and Herron said.
At the same time, the Education Foundation will continue providing its yearly High Impact Grant, STEP into Kindergarten, Vision for Reading and Sneaker Exchange programs.
The Education Foundation will also continue its fundraising through its Adopt-A-Class/Fund-A-Project and giving programs, which generate approximately $500,000 per year.
Moore started work in December 2019 and Herron assumed his position in March 2020, but responding to the COVID-19 pandemic took precedence over foundation development efforts until earlier this year.
In addition to raising money for new athletics and performing arts facilities, the foundation could provide funding for innovative classrooms, robotics and/or aerospace programs, apprenticeships, mentoring and remedial learning, Moore said.
"The sky is really the limit as far as the services we could provide to the district," Herron told the School Board during a workshop on June 22.
"There is nothing to prevent us from working on capital projects," Herron said. "We just never have in the past."
"By re-establishing this relationship, I think we're going to be able to work on those types of things together, not separately like has been done for the past several years," Herron said. "Although we're an independently operating foundation, our primary goal is to support the school district."
School administrators are formulating a strategic spending plan based on the district's most pressing needs, Moore said. The priorities will be refined during School Board discussions, possibly as soon as the July 20 meeting and will serve as a guide, to some extent, for the Education Foundation's focus.
The foundation's upgraded fundraising strategies should be patterned after those deployed by Cleveland Clinic Indian River Hospital, Riverside Theatre and the Vero Beach Museum of Art, said School Board Chairman Brian Barefoot, who also serves as vice chairman of the hospital's charitable foundation.
One scenario is for the school district to propose a capital project for funding, such as a track and field facility for Vero Beach High School at the old Jimmy Graves Sports Complex, complete with detailed plans and cost estimates, Barefoot said.
The Education Foundation's board of directors would review the proposal and decide whether to undertake a fundraising campaign to cover the costs, Barefoot said.
Other initiatives could include endowing the Superintendent of Schools position to ensure top pay, so a highly-qualified person always gets the job, Barefoot said.
"As we all know, we're fortunate enough to live in a very generous philanthropic community," Barefoot said. "I'm not aware of any of the major philanthropists in the community that actually give money directly to the Education Foundation."
The foundation could assign board members to be "ambassadors" to make fundraising pitches to Vero Beach's charitable organizations and top philanthropists, Barefoot said. The foundation could also recruit new board members from those ranks.
"There is a lot of interest in supporting public education in the county that was not there a year ago," Barefoot said. "We've got to take advantage of that. This is a good start."