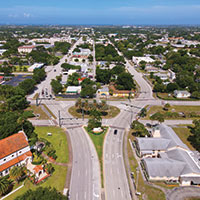 Vero asks for safety audit of Twin Pairs
STORY BY LISA ZAHNER (Week of July 1, 2021)

The Vero Beach City Council has asked state transportation officials to look at options for improving safety on the "Twin Pairs" that cut through downtown Vero – and one potential solution seems like it could make the roadway less safe.
City Manager Monte Falls suggested that the Florida Department of Transportation might make the traffic lanes narrower in an effort to force people to drive more slowly.
Lanes on the Twin Pairs – which consist of two, separate, 4-lane roadways, one eastbound and one westbound – currently are between 11 feet and 12 feet wide. Falls said they could be taken down to 10.5 feet or possibly even 10 feet wide.
"As you get those smaller lanes – side friction, as they call it – makes you more aware of your surroundings," Falls said.
The traffic-calming strategy of narrowing lanes is called a "road diet" by the U.S. Department of Transportation, and the space deducted from the traffic lanes could be added to bike lanes to theoretically increase safety for cyclists.
Other strategies the city is discussing with FDOT are speed reduction, increased pedestrian crossings, and a right-turn only lane between 14th Avenue and 20th Avenue. Falls said a speed study of the Twin Pairs showed that 85 percent of drivers are driving at the current limit, so the roadway meets the criteria of having the proper posted speed.
The happy medium the city needs to strike, Councilwoman Honey Minuse pointed out, is to calm the traffic enough to be safer, but not to slow traffic to the point that drivers start cutting through side streets in residential neighborhoods.
"What causes people to cut through traffic is if you add a lot of time to their path," Falls said.
With the current configuration and speed limits, Police Chief David Currey said the Twin Pairs are not a hot spot for fender benders. Each year the department analyzes the city's top locations for traffic crashes, and when he looked specifically at the Twin Pairs he said "the locations for the most part are not even in the top 10 for crashes."
Still, Currey said he has beefed up enforcement on the Twin Pairs, as well as elsewhere in the city. In fact, police officers gave 51 percent more speeding tickets in 2020 than in 2019. The city is also using trailers with radar speed signs to slow drivers down.
Roughly 25 percent of Vero's 800 to 900 crashes per year occur not in higher speed zones like the Twin Pairs but in parking lots, Currey said. Since Jan. 1, there have been 19 crashes on the Twin Pairs – fewer than one a week – with 12 occurring east of the railroad tracks and seven west of the tracks.