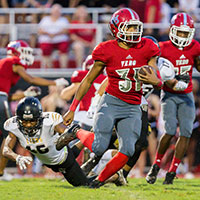 Vero Beach High football fans have new online viewing option
STORY BY RAY MCNULTY (Week of July 29, 2021)

Vero Beach High School football fans who can't get to the Citrus Bowl – or simply prefer the convenience of watching from their living rooms – will be able to access live-stream telecasts of the Fighting Indians' home games this season.
But not on YouTube as in the past.
And not for free.
Instead, the newly created Vero Nation Network – a partnership between the school's athletic department and Christian FM, the local radio station that broadcasts the Fighting Indians' games – will offer the telecasts on a pay-per-view basis.
The live stream will be produced by Florida-based QwikCut Video & Analytics with audio provided by the Christian FM radio broadcast team, headed by play-by-play announcer Paul Tipton and longtime football analyst Gary Parris.
According to Vero Beach Football Coach and Athletic Director Lenny Jankowski, subscribers can buy access to individual games for $15 apiece or purchase a season pass for $125.
The season pass includes all seven of the team's home games, including one preseason contest, and all playoff games, home and away. Subscribers also will get access to two junior varsity and two freshman games.
Jankowski said fans who purchase their season passes by Aug. 15 will pay the "early bird price" of only $100.
By comparison, tickets to attend Vero's football games at the Citrus Bowl sell for $6 (visitors side) and $8 (home side), or $56 for a season pass.
"We still prefer to have our fans in the stands on Friday nights," said Jankowski, whose teams are perennial playoff contenders and usually rank among the state's best. "We want that crowd support and that big-game atmosphere. It's a big part of what makes Vero Beach football and the Citrus Bowl so special.
"But I also want to provide our fans with an option – especially those people who might be out of town or, for whatever reasons, can't come to the games," he added. "That's why we initially put the games on YouTube."
The free live-stream telecasts on YouTube attracted many viewers, peaking last year when COVID-19 arrived, and pandemic-prompted social-distancing requirements limited game-day seating at the Citrus Bowl to 1,000 spectators.
Fans who couldn't attend the games flocked to online venue. Some were having YouTube watch parties at local restaurants or in their homes.
"We were excited that people wanted to watch on YouTube during a pandemic year, but we weren't benefiting at all from that," Jankowski said. "Not only was there limited crowd support at the stadium, but we weren't generating much revenue from ticket sales.
"Under normal circumstances, it's not uncommon for us to have a $20,000 gate," he added. "But we were limited to 1,000 seats and, because people were worried about COVID, there were games where we didn't even get that."
In fact, Jankowski said revenues from ticket sales and booster-club fundraising efforts were down 50 percent last year – a costly shortfall that hurt the school's other 50-plus varsity and sub-varsity athletic programs.
"We have one program that turns a profit, and that money goes into a general athletics account," Jankowski said. "We use the revenue generated by football to help our other programs."
Jankowski plans to do the same with the telecast revenues.
The school will receive 70 percent of the proceeds, while QwikCut gets the other 30 percent. Christian FM will continue to rely on its radio-broadcast sponsors to cover its costs.
Fans wanting to subscribe may do so at qwikcut.com.