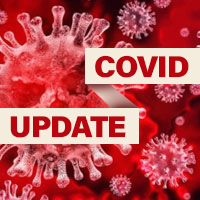 'Younger, sicker' COVID-19 patients pack Vero hospital
STORY BY MICHELLE GENZ (Week of July 29, 2021)

Cleveland Clinic Indian River Hospital reported the highest number of COVID-19 inpatients it has seen to date in the pandemic, with 50 patients hospitalized in its fifth-floor COVID wing and in a dedicated intensive care unit.
Around 90 percent of those patients – 45 people – are unvaccinated, according to the hospital's president, Dr. Greg Rosencrance, who sent out a letter informing community partners of the extraordinarily fast-arising surge that has resulted in "exponentially" higher hospitalizations in less than a month. 
"Those unvaccinated patients are younger and sicker patients than what we saw during previous surges, and many require intensive oxygen therapy," he said.
Equally alarming is the inference that of those 50 people admitted to the hospital, around 10 percent, or five patients, are so-called "breakthrough" cases in people who have been at least partially vaccinated.
It is the highest number of hospitalizations since the first COVID-19 cases were confirmed in Vero 16 months ago, Rosencrance said.
Compounding the problem is that non-COVID patients are also showing up in high numbers, both in the inpatient setting and in the emergency department. "We are closely monitoring our bed capacity levels across our hospitals," he said.
The CDC showed a staggering leap in positivity to more than 15 percent last week, and a corresponding dip in COVID-19 testing.
Along with being much more contagious, the new delta variant is also proving to present more quickly after exposure and with different symptoms from the original strain. Delta tends to resemble the common cold, experts say, with headache, runny nose, sore throat – ailments that might not provoke a person to go to CVS for a COVID test.
Only with more testing will the county get a clearer picture of how fast the virus is spreading.
At the end of his grim missive, Rosencrance reiterated the underlying cause of the surge – the county's low vaccination rates. Only 51 percent of the county's residents are fully vaccinated, though another 11 percent are partially vaccinated. Of the population over 12 years of age, 56.9 percent are fully vaccinated.
CVS, Walgreens and Publix all offer the vaccine, which is free no matter where you get it.
Vaccines are also available at morning and afternoon walk-in clinics two days a week at the county's Health Department. In addition, the department has scheduled a free vaccine clinic at the Salvation Army on Fifth Street SW Saturday, July 29, from 11 a.m. to 1:30 p.m.
Treasure Coast Community Health gives vaccines at United Against Poverty, better known as the UP center, Thursdays and Saturdays from 10 a.m. to 1 p.m.