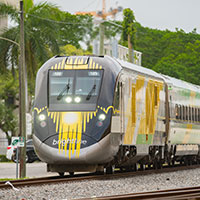 County reaches deal ending its efforts to block high-speed Brightline train
STORY BY GEORGE ANDREASSI (Week of June 10, 2021)

Indian River County has negotiated a $31.6 million deal that will end its expensive seven-year battle to halt the Brightline high-speed passenger train project.
Under a proposed settlement agreement, Brightline – not Indian River County – would pay for the installation of new safety devices at the county's 32 railroad crossings to accommodate high-speed passenger trains.
Brightline also would pay to install fencing along the tracks in areas identified by a hazard analysis.
In exchange, the county would drop its lawsuit in state court concerning the railroad crossing costs and not take any other action challenging Brightline's ability to operate within the Florida East Coast Railway right-of-way.
The county also agreed to work with Brightline to obtain state and federal grants to help pay for the railroad crossing upgrades.
County commissioners were scheduled to vote Tuesday on the proposed settlement agreement in the lawsuit they filed in January 2019 in state Circuit Court.
Brightline plans to run 32 trains per day through Indian River County at speeds of up to 110 mph en route between Orlando and South Florida starting in early 2023.
Commissioners have spent nearly $3.8 million since 2014 fighting the Brightline extension through Indian River County, raising safety, quality-of-life and regulatory concerns about the project and filing lawsuits in state and federal courts.
But the courts repeatedly dismissed Indian River County's claims, including one contending that the U.S. Department of Transportation improperly allocated $2.1 billion in tax-free bonds to the Brightline project. A last-ditch appeal to the U.S. Supreme Court was rejected in October.
Sen. Debbie Mayfield (R-Vero Beach) worked with fellow lawmakers, state transportation officials and Brightline executives to arrange for the railroad crossing safety improvements to be installed at no cost to Indian River County, said County Attorney Dylan Reingold.
"County staff believes the installation of the necessary safety improvements is the highest priority for the citizens of Indian River County," Reingold wrote in a June 2 memo to county commissioners.
The agreement calls for Brightline to submit its plans for upgrading the railroad crossings and maintaining the flow of traffic to the county and Florida Department of Transportation, which will review them for compliance with federal, state and local regulations.
Brightline will be required to obtain permits from Indian River County to engage in construction on county roads right-of-way.
The county also reserved the right to support or lobby for laws or regulations affecting Brightline's operations within the FECR right-of-way.
The proposed settlement agreement between Indian River County and Brightline will need final approval from Judge Katie L. Dearing in state Circuit Court in Jacksonville, where Florida East Coast Railway is based.
Brightline held a news conference last month to announce it passed the halfway mark in its $3 billion extension of high-speed train tracks to Orlando International Airport from West Palm Beach.
Brightline is upgrading the FECR tracks from West Palm Beach to Cocoa – currently used by freight trains traveling 40-to-60 mph – to handle passenger trains that will reach a peak speed of 110 mph.
The company is also building new tracks along State Road 528 from Cocoa to Orlando International Airport, where Brightline's passenger trains will reach speeds of 125 mph.
The project includes the $33 million replacement of the 97-year-old St. Sebastian River Railroad Bridge with a new concrete bridge, and the installation of a second set of train tracks.
Brightline operated between Miami and West Palm in 2018 and 2019 before shutting down in March 2020 in response to the COVID-19 pandemic.
The passenger rail company is testing new safety controls at railroad crossings in South Florida in anticipation of resuming service there later this year, said Brightline spokeswoman Katie Mitzner.
The company has pushed back its timeline for completion of the extension north from West Palm to Orlando several times and now hopes to begin service early in 2023.
So far, no train station is planned for Indian River County.