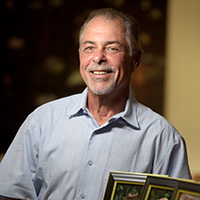 Dr. Richard Moore: Has Vero 'lost the flavor of the community hospital?'
STORY BY MICHELLE GENZ (Week of June 10, 2021)

It took some frank conversations and soul-searching for cardiologist Richard Moore to decide to retire from Cleveland Clinic Indian River Hospital, where he practiced as an employed physician for the past decade.
His wife, Charlotte, a former cardiac critical care nurse, brought it up first when she noticed a change in him that started not long after Cleveland Clinic took over the Vero hospital.
"You aren't yourself," she told her husband several times in the past year, he said.
So this spring, as a string of physicians and other practitioners began leaving the hospital, Moore sat down with Cleveland Clinic administrators and told them he was calling it quits.
With that, Moore, who is 66, added his name to a list of five cardiologists who have left or given notice to Cleveland Clinic Indian River since the fall. That's five of the eight employed by the hospital prior to Cleveland Clinic taking over in January 2019. 
Most of the departing heart doctors have gone back to private practice, freed of the corporate model.
 Cleveland Clinic is far from the only health system dealing with physician burnout. An article last month on the AMA website called burnout in healthcare a "parallel pandemic" to COVID-19.
The article quoted Dr. Bryant Adibe, a vice president of Rush University System for Health.
"The primary driver of burnout is macroeconomics, spanning the entire U.S. health system," he said. "But there are also secondary drivers, typically at the organization level, such as administrative barriers and burdens or operational inefficiencies that significantly contribute and make it worse."
Last year was a stressful one at Moore's hospital-owned practice. After a promised one-year period maintaining the status quo at Indian River following the Cleveland Clinic takeover, the expected standardization of practices to sync the Vero hospital with the rest of the Cleveland system began in earnest in January 2020 – just as COVID-19 began creeping into town.
A year later came the widespread phone problems at the hospital's employed physician practices. Some patients were unable to get through to their doctors or make appointments for needed care.
The problems, which are still on-going six months later, have shaken some patients' confidence in the hospital's new owners. That patient burnout spilled over to doctors as they were left to take the blame, though they had no control over the endless hold times, busy signals and dropped calls.
Moore also had no input into the letter that went out to his former patients, notifying them of his resignation. That same form letter – which didn't say whether the physician would be practicing elsewhere or had retired – has gone out to thousands of patients whose doctors have left the hospital.
As employees of the hospital, the doctors had no way to personally reach their patients – once they were no longer Cleveland Clinic employees, they had no access to patient records, including contact information.
Some doctors feared there could also be legal ramifications if a physician tried to reach out to a person who was technically the health system's patient.
"What was so sad is they were calling me on my cellphone, saying, 'How could you do this to me?'" said Moore, who had given his cell number to patients who needed it.
Not everyone got the letters who should have. One woman with a standing appointment at the hospital's Wellness Center showed up for her appointment only to find her doctor was gone; another Cleveland Clinic doctor was assigned her appointment, but the patient didn't find out until she got there. She walked out without being seen.
Cleveland Clinic said in a statement: "We understand that people have choices of where to receive care, and we support their decisions. Indian River Hospital is focused on providing care to the patients who wish to utilize our services. However, we do provide patients with information on how to contact departing physicians if it is requested and if we have that information available."
But that claim is in contrast to what one receptionist said to this caller, asking about her provider: "We were told not to say where they had gone."
In Moore's case, the answer would be simple: Gone fishin'.
Since his retirement, Moore has spent a lot of time at his second home in Key West, where he and his wife head offshore to fish as often as the weather allows. Key West is Moore's birthplace, as it was his mother's. It was where his late father, Dr. Herman Moore, practiced medicine for nearly half a century since the early 1940s.
It's also where his daughter, third-generation physician Dr. Lily Moore Landry, dreams of returning. But time off is limited, as she heads toward completion of a three-year fellowship in pediatric cardiology in Jackson, Miss. She too faces stress, her dad says. He even tried to talk his daughter out of med school and into nursing, though she didn't take his advice. "He was worried it would be too stressful," she said.
Richard Moore's father managed to escape much of the stress that afflicts medical professionals today. His practice ranged from delivering babies, to performing general surgery to even doing autopsies as medical examiner.
He worked alone and he loved what he did, much of it before the burdens of malpractice insurance and government regulation. "They practiced by the Hippocratic oath back then, and that was it," Richard Moore said.
For his son, Richard, a return to Key West, his childhood home, may be just what the doctor ordered. Now and then, one of his father's former patients stops him to say hello, and he can reflect on why he started in this profession – the example of his father, who he calls his "hero."
Among the three Moore doctors from three generations, Richard Moore is the one who has seen the arc of medicine follow the highly individualized, even non-standard, practices of his father in the middle of the last century; to the rise of regulation and standardization including after he merged his practice with Indian River Medical Center. And most recently, Moore has experienced practicing under what may be one of the most rigorously standardized, scrupulously self-monitored health systems in the world at Cleveland Clinic.
Here, Cleveland Clinic's challenge is to retain "what has been so special in the medical community of Vero, and that is, a high level of medical care but the small-town sort of relationships," Moore said.
With the essential nature of medicine today less personalized, Moore feels that the very thing that made Cleveland Clinic the top choice to take over the hospital – its stellar ratings and reputation – may preclude the neighborly medicine he practiced when he started in his career, and that his dad mastered over the course of his.
"People have to understand that medicine is not the same. When they call the doctor's office and they get a machine and can't talk to a person, that is just what's going on in medicine today. It's just the difference. It's not the good or bad, but the difference. It's a sea change from what we all have been used to. That's why people are wondering: does it fit?"
Moore holds the Cleveland Clinic system in high esteem. "It is an excellent, excellent organization," he said. "Its goal is to be No. 1 in the world. And we all know what it takes to be No. 1 in the world."
What it takes is not only excellence, but the standards that create it and – perhaps just as importantly – the ability to track it.
Cleveland Clinic Indian River's leaders may know the kind of metrics and tracking it takes to achieve excellence. But is each caregiver willing to do what it takes to conform to those standards, and put in the extra hours to "check all the boxes," as Moore puts it?
And will Vero patients be willing to adjust to corporate healthcare, which even at its best has faceless facets. A centralized appointment center, the hospital's answer to the phone problems, can't tell you whether a bad sprain needs to be seen, or how to ice it until the doctor can see you.
"Have we lost the flavor of the community hospital we thought we could keep when Cleveland Clinic came to town?" Moore asked. "And is that what we wanted?"