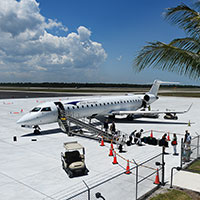 Elite Airways move from Vero is only temporary
STORY BY RAY MCNULTY (Week of June 3, 2021)

Elite Airways President John Pearsall said he's optimistic island  travelers will continue to choose the convenience of his airline's nonstop jet service to the Northeast when its flights are temporarily moved to Melbourne's airport this fall while the longest runway at Vero's airport is resurfaced.
The airline will continue its regular commercial service connecting Vero Beach to Newark, New Jersey, and Portland, Maine, through early September, when those flights will be moved to Melbourne for at least six months.
"We really do appreciate the support of all of our Vero Beach customers, and we'll start up again as soon as the city tells us the project is finished," Pearsall said last week.
"The timing is unfortunate because the holidays are big for us, but we can't operate without that runway, so moving the flights was the only thing we could do," he added. "I understand Melbourne is a little more of a drive, but it's still a lot closer than Orlando or West Palm Beach.
"We're hoping our Vero Beach customers stay with us."
Pearsall said he expects the flights moved to Melbourne to operate on the same days – and at close to the same times – as they do in Vero Beach.
Elite's final scheduled service between Vero Beach and Portland prior to the temporary suspension is on Sept. 2, while its last connection between Vero and Newark is Sept. 6.
Vero Beach Regional Airport Director Todd Scher said he notified Elite in February of the need to resurface the runway beginning in October, and the airline opted to move flights a month in advance of the projected start time.
The timing of the construction was determined by funding availability and weather patterns.
Scher said Federal Aviation Administration funds will cover most of the project's $8.5 million cost, with some monies coming from the Florida Department of Transportation and the airport's construction fund.
Those funds will be available in late summer, but Scher doesn't want to start the project in the middle of the rainy season when daily downpours could delay construction.
Florida airport runways should be repaved every 20 years, Scher said, adding that the last resurfacing of the airfield's longest runway was in 2001.
Besides resurfacing the 7,314-foot runway, the project will include the installation of new runway edge lights and other navigational aids.
Scher said he doesn't expect the project to have any significant impact on other aircraft – corporate flights, private planes and flight-school trainers – using the airport's other runways, which will remain open.
"Our second-longest runway is just under 5,000 feet, and that can accommodate most of the other aircraft," Scher said. "There are a few larger corporate or privately owned jets that will need to determine whether they can safely use that runway."
If the weather cooperates, Scher said, the project could be completed in February.
"In a perfect world, we won't go into March, but I've learned not to prognosticate," Scher said. "In a perfect world, we won't have a bad hurricane in October. But who knows?
"There's no great time to close down your longest runway. We picked the most promising time."
"They need to get it done, and we understand," said Pearsall, whose airline began offering passenger jet service at the Vero airport in December 2015, becoming the first carrier to provide commercial flights here since American Eagle in the 1990s.
"The good news is, business there picks up in March, and we do very well during spring break," he added. "Let's hope they finish by late February or early March, so we can get back to Vero Beach as soon as possible."