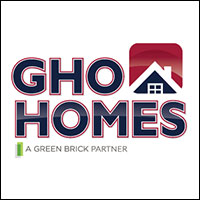 GHO Homes takes over development at The Strand
STORY BY STEVEN M. THOMAS (Week of June 24, 2021)

GHO Homes bought out mega-homebuilder Lennar's interest in The Strand subdivision this month, acquiring all the remaining lots in the second-largest new home development on the island.
"We closed on the lots a week or two ago and just opened for sales and we already have many deals in the works," said GHO president Bill Handler. "If you look back six weeks from now, there will have been a lot of action."
Handler said his company will be offering five models with base prices between $1,175,990 and $1,315,990, with 32 new homes available for purchase.
The 36-acre Strand site north of Palm Island Plantation in Indian River Shores was purchased for $5 million in 2017 by the Patten Company, a national real estate development firm with offices in Naples and Boca Raton.
Patten got a site plan approved by the Shores in 2018 and installed roads, sewers, water features and other infrastructure, creating 47 single-family home lots and 21 townhome lots. The townhome section is in front, visible from A1A, and the single-family section extends west from the townhomes to the Jungle Trail along the Indian River Lagoon.
Handler bought three of the single-family lots before Lennar swooped in and bought the other 44, giving him a presence in the subdivision.
Lennar was slow to get going on the project and had only sold seven or eight houses before turning the project over to GHO.
Lennar executives declined to comment when asked why they off-loaded a ready-to-go subdivision in a phenomenal island location in a sizzling hot housing market where inventory is historically low and buyers exceptionally abundant.
"I won't speculate," said Handler when asked about Lennar's decision. For his part, he said the purchase made sense for GHO Homes.
"We're always looking for opportunities. We were already in there with those first three lots and we had sold two homes. I've stayed in contact with Lennar and the developer, and we ended up getting all the remaining lots."
GHO will build 3-bedroom-plus-den, 3.5-bath homes that range from about 2,700 square feet to 3,000 square feet. Homes will come with "many upgraded features, including swimming pools," according to Handler.
In the current island market, it is easy to imagine the subdivision selling out in a flash, but Handler said his build capacity will limit to some degree the number of contracts he writes in coming months. GHO has numerous other subdivisions underway and with material and labor shortages hampering the housing industry, the company can only build so many homes at once.
"We don't want to make a commitment to someone that we can't keep," Handler said.
Meanwhile, construction and sales are moving forward at the Seabreeze Cottages at the Strand.
The 21 townhome lots were put under contract for purchase from Patten in 2018 and are owned by developer Joseph J. Rauenhorst. Construction began in 2019 and the fourth of five multi-unit buildings is nearing completion.
The Key West-style luxury townhouses are co-listed by the O'Dare/Boga Group and Luke Webb at Premier Estate Properties with prices starting at $1,095,000.
Three of the units have been sold and another eight are under contract, according to Phil Sunkel, onsite agent for the O'Dare/Boga Group.
The four-unit buildings have single-story cottages on the ends and two-story homes in the middle. Sunkel said the one-story "Hemingway" units have been most sought after by buyers. They have 2,335 square feet of air-conditioned living space, with 2,879 square feet under roof, and include 3 bedrooms, 3 baths, 2-car garages, and a long list of high-end features and finishes. The two-story "Audubon" units encompass 3,078 feet of air-conditioned space with 4,121 square feet under roof. They include 3 bedrooms and 3.5 baths and come with the same slate of luxury finishes, including shellstone floors, quartz countertops and Miele appliances.
Something about the style, ambiance or location of the townhouse development is attracting a younger demographic, with buyers ranging from 33 years old to mid-60s, according to Sunkel.
Low HOA fees – just $330 a month – are another draw, along with private beach access a few steps away on the east side of A1A.
Buyers are coming from the Northeast, the Midwest and other parts of Florida, including a strong contingent from Naples.
Richard Boga said construction on the fifth building, which will include five units, will get underway, "as soon as we close a few more sales."
"Those units will be released within the next six months," said Sunkel, adding that prices for the final phase homes will be higher, starting at $1.2 million.