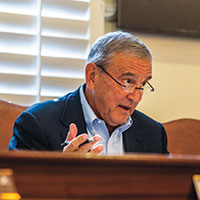 Revered Shores Mayor Tom Slater victim of COVID-19 pandemic
STORY BY LISA ZAHNER (Week of June 3, 2021)
Photo of former Indian River Shores Mayor Tom Slater.

Former Indian River Shores Mayor Tom Slater's death last week at age 76 serves as a stark reminder that, even as the pandemic subsides here, COVID-19 has robbed our community of friends, family members, colleagues and even revered local leaders.
Slater's close friend of 40 years, former Shores Councilman Dick Haverland, confirmed the sad news quietly spreading around the Shores in the days after Slater's death – that the man who beat back terminal cancer twice had been lost on May 26 not to cancer, but to complications of COVID-19.
Slater passed away at the Memorial Sloan-Kettering Cancer Center in New York, where he had gone to be treated once again for non-Hodgkin's Lymphoma.
"He got COVID soon after arriving in New York," Haverland said. "His immune system had been weakened over the years due to various cancer treatments. Tom had an incredible number of great friends. I am still trying to process his loss. He will be missed by so many."
Thomas "Tom" Francis Slater, 76, a successful entrepreneur, an Army veteran, a Yale University graduate, a generous patron of the arts, a scratch golfer, a devout Catholic and a dedicated public servant, had stepped down from his town council seat in 2016 after three years' service to be treated for cancer.
He'd beaten Stage 4 non-Hodgkin's Lymphoma in 2009 and was confident he could beat it again, which he did, returning to the town council in 2018 to serve as Indian River Shores mayor for more than two years.
Slater did not run for re-election in 2020 because his old nemesis had returned. This time, medical care eventually took him in the late winter to Memorial Sloan-Kettering.
Haverland shared some of his memories of Slater, who had been not only a dear friend to him and his wife Rosemary since the 1980s, but also his neighbor and business associate in Ohio long before either moved to Florida.
"Tom was a terrific father to his own children and just as good a dad for Anna Bain's five children. He and Anna Bain were the perfect couple," Haverland said, noting that Slater leaves behind a large extended family, including 17 grandchildren.
"He excelled in everything he did. As a golfer he had no peers. He was an outstanding businessman. He built a business from almost nothing and successfully sold it. He was in great demand to serve on corporate boards and sat on more than six at various times," Haverland said.
No matter what obstacles Slater encountered in life, "his spirit and attitude was always positive," Haverland said. That quality is one thing that made Slater an outstanding leader as well as a true friend.
"He made a real difference when he was president of John's Island. He was a terrific mayor whose concern for constituents and employees was evident in everything he did," Haverland said.
Slater's life, and his death, touched the many friends he made after relocating to John's Island and becoming active in the club and in town business. Town Clerk Laura Aldrich fondly remembers nearly a decade of working with Slater after he began serving the town as a volunteer.
"Tom Slater brightened the room when he entered, with his charming smile and genuine interest.  He was the nicest man who cared deeply about people.  Tom was a true diplomat," Aldrich said.
"Working with him since 2012 on the Finance Committee, and even seeing him in between times when he was not officially involved with the Town, was always a pleasure. He will indeed be sorely missed."
Like Haverland, former Shores Mayor and current Indian River County School Board Chairman Brian Barefoot said he's still reeling from the death of his friend. "Smart, tough and kind would be the words I would use to describe Tom," Barefoot said.
Barefoot said Slater had an easy, self-assured manner and a certain understated humility, and that he never seemed to have anything to prove to anyone.
"Because of that, it was easy to underestimate Tom, but if you did that you were making a huge mistake," Barefoot said, because, when strong action was needed to right an injustice or stand up for a cause he was passionate about, Slater was a force to be reckoned with.
"I've known a lot of people who were smart, I've known a lot of people who were tough, and I've known a lot of people who were kind, but Tom was all of those things at once – plus he was a total gentleman," Barefoot said. "You lose a lot of friends, and it's always difficult, but Tom was the only person I've known who was all of those things."
A funeral Mass for Slater is scheduled for 10 a.m. Friday, June 4 at Holy Cross Catholic Church on the island, with a reception to follow at John's Island Club.