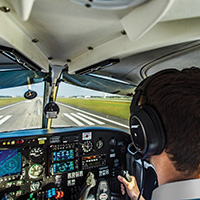 Skyborne Aviation Academy Vero Beach getting off ground fast
STORY BY RAY MCNULTY (Week of June 10, 2021)

The new signage hasn't yet arrived, but Skyborne Aviation Academy Director Jeff Devlin said significant improvements have been made – to the campus, technology systems and strategic partnerships – since the British company closed on its purchase of the former FlightSafety facility here May 1.
"It's been only a few weeks, but a lot has happened," Devlin said, "and we're just getting started."
Among the upgrades Devlin cited were building renovations, new flight simulators and five freshly signed agreements to provide airlines, including United and Delta, with newly trained pilots.
Training aircraft are being repainted with Skyborne's colors and logo, and new student uniforms have been ordered.
"Right now, our enrollment is at 110 students, but we're getting an influx of new contracts and we expect that number to increase substantially in the coming months," Devlin said. "We think we'll be up to 300 within 18 months."
Skyborne Aviation Chief Executive Officer Lee Woodward said he signed a definitive agreement to buy FlightSafety Academy in February, then spent the several months acquiring "all the necessary government approvals" and working with city officials to transfer the school's lease at Vero Beach Regional Airport.
Woodward said a confidentiality clause in the sales contract prevented him from revealing the exact terms of the transaction.
Skyborne, which was founded in the United Kingdom in 2018, has quickly earned an international reputation as one of the most respected pilot-training schools in the industry.
Woodward said it was his desire from the outset to expand Skyborne's brand to the U.S. market, which the company explored for 2 ½ years – looking at sites in Arizona, Texas and at various locations in Florida – before deciding to set up shop in Vero Beach.
Besides rebranding the school as "Skyborne Aviation Academy Vero Beach," Woodward said the company would embrace a "very airline-centric philosophy," and introduce new technology as well as implement new training methods.
"We're a British company," Woodward said in a trans-Atlantic phone interview with Vero Beach 32963 in March, "but our plan is to make a massive effort in the U.S. market to develop U.S. pilots, especially for U.S. airlines."
That's why, Devlin said, Skyborne is in the process of bringing in a large-jet, full-motion simulator to supplement its two new Redbird Flight simulators, which are used to train pilots to operate smaller aircraft.
In addition to its "pathway programs" with United and Delta, Skyborne has similar agreements with SkyWest Airlines, Endeavor Air and Envoy Air to employ its graduates.
Devlin said more than 90 percent of FlightSafety Academy's students agreed to transfer their contracts and will complete their pilot training with Skyborne. Likewise, more than 90 percent of FlightSafety's instructors opted to stay in Vero Beach and work for Skyborne.
Improvements at the 10-acre campus include renovated living accommodations and classrooms – new furniture, appliances, flooring, windows and digital technology have been installed. The campus also includes a student center, swimming pool, soccer field, volleyball court, cafes and book shops.
In addition, arriving students and visitors will find what Devlin called a "more open and welcoming" reception area.
"The new signage has been ordered, and we should have it in another week or two," Devlin said. "Come over in about three months, and you'll be impressed with what we've done."