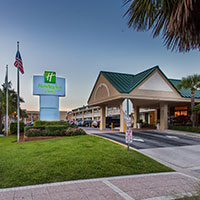 South Florida woman arrested after getting tossed out of Mulligan's and the Holiday Inn
STORY BY LISA ZAHNER (Week of June 17, 2021)

A night out for a visiting South Florida woman turned into a night in jail after she managed to get kicked out of Mulligan's Beach House and the Sexton Plaza Holiday Inn lobby for being drunk and disorderly, and was literally carried off to jail – all before 11 p.m.
Mona Kaye Mulberry, 53, of Fort Lauderdale allegedly created enough of a fuss Sunday night that hotel security called the Vero Beach Police Department to remove her from the premises of the hotel on Ocean Drive. Two officers responded at 9:57 p.m. The hotel did not know the woman's name but told police they could find her wearing a cardigan sweater.
"Upon making contact with Ms. Mulberry, I could smell a strong odor of alcoholic beverage emanating from her person. Ms. Mulberry was unable to complete sentences and had slurred speech while attempting to speak with her," the report states, then going into detail about the R-rated encounter.
According to the police report, officers asked Mulberry if she knew anyone who could come and assist her and she yelled obscenities. They asked her if she knew where she was staying and she called the police offensive names. At that point, the officers escorted her out of the lobby and to the patrol car, attempting to get identification from her, but she refused.
When the officers tried to put the woman into the patrol car, "Ms. Mulberry became limp and refused to go sit inside," the police report said. Ofc. Zachary Matson "had to pull Ms. Mulberry from the opposite side of the prisoner compartment, as I lifted her legs and placed her inside the rear of my patrol car."
"After several attempts to help Ms. Mulberry failed, I placed Ms. Mulberry under arrest for disorderly intoxication and creating a public disturbance," Officer Giovanny Fonseca wrote.
Things didn't get much better en route to the Indian River County Jail, according to the arrest report. "Ms. Mulberry continued to yell until arriving at the jail. Once inside the jail, Ms. Mulberry continued to yell towards deputies and myself. Ms. Mulberry also began tensing and pulling away from deputies," Fonseca wrote.
Before leaving the Holiday Inn, the officers contacted hotel security and were told that Mulberry had been kicked out of Mulligan's "due to her being intoxicated and unruly there earlier in the night." Kirt Ferguson provided a witness account to go with what the police observed at the hotel.
Mulberry, who was listed as unemployed on her booking, had her first appearance Monday morning before Judge Nicole Menz and was released on $500 bond and ordered not to return to Mulligan's Beach House Bar or the Holiday Inn.