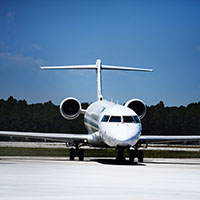 Not clear whether Elite will fly between Vero Beach and Asheville this summer
STORY BY RAY MCNULTY (Week of June 24, 2021)

Island residents hoping to hop on a convenient Elite Airways flight from Vero Beach Regional Airport to Asheville when they head north to the cool Carolina mountains this summer may have to make other travel arrangements.
As of Monday, Elite's website listed no flights connecting Vero Beach to Asheville in coming months.
"Judging by our numbers, the Asheville flights have been very popular with travelers here," Vero Beach Airport Director Todd Scher said last week. "But Elite hasn't told us they plan to fly there this summer – and there's nothing on their schedule through September – so unless I hear otherwise, I'm guessing they're not going to do it."
But there is still a chance the popular service will resume, according to Elite President John Pearsall, who said last week the airline was "strongly considering" resuming the seasonal flights, possibly as soon as early July.
"It's early [in the season], and we're still looking at it," Pearsall said. "We should have a decision in the next couple of weeks."
Elite began offering passenger jet service from Vero Beach in December 2015, becoming the first carrier to provide commercial flights here since American Eagle in the 1990s. The initial flights were to and from Newark Liberty International Airport in New Jersey.  The airline continues to offer service between Vero Beach and Newark on Mondays and Fridays, along with Thursday flights to and from Portland, Maine.
Seasonal service connecting Vero Beach and Asheville began in May 2017, with flights scheduled on Thursdays and Sundays, which Pearsall said was "ideal for vacationers headed in either direction."
The airline suspended all commercial passenger service in March 2020 because of the COVID-19 pandemic. It resumed flights from Vero to Newark and Portland two months later, but the planned summer service between Vero Beach and Asheville was canceled.
Scher said his only recent conversation with Elite representatives was a month ago, when they wanted to know what he was hearing about local interest in other markets the airline should consider.
He said it's unlikely the scheduled resurfacing of the airport's longest runway – the one used by Elite's jets – will impact the airline's decision regarding Asheville, because the project won't begin until October, which is after those flights would normally have wound down.
Pearsall said Elite will continue its regular commercial service connecting Vero Beach to Newark and Portland through Sept. 6. Those flights then will be moved to Melbourne for six months to accommodate the runway project.
Elite's service will return to Vero Beach when the project is completed.