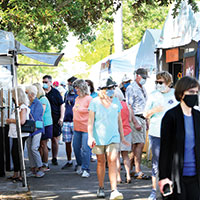 At last, events restarting here after long year
STORY BY STEPHANIE LABAFF AND MICHELLE GENZ (Week of March 18, 2021)

The unwanted visitor with the strange name came to Vero on Friday the 13th.
For the superstitious, the date somehow seemed fitting because in the span of only a few hours last March, COVID-19 caused the shutdown of three of Vero's biggest events, turning away crowds of more than 100,000 – equivalent to two-thirds of the county's population.
That same day, Florida schools were closed, flights from most of Europe were halted and cruises were canceled.
But it was the closure of three hugely popular happenings – the Under the Oaks art show, the Firefighters Fair and a big Broadway musical at Riverside Theatre – that foreshadowed a long year of dramatic changes to our community's social, arts and entertainment scene.
However, now, almost exactly a year later, there were signs last week of Vero slowly coming back to life.
There won't be any big productions at Riverside Theatre this spring.
But the Firefighters Fair opened as usual on Friday night, with hopes that people would wear masks and social distance. To play it safe, organizers were postponing the fair's concert – with headliner Mark Chesnutt – until fall in hopes of COVID numbers being lower countywide, but rides and food and other fun were available.
As for Under the Oaks, the huge art fair – which last year lost 75 percent of its typical net profit of around $80,000 – was once more open for art lovers.
Some 35,000 people showed up for the three-day event, which meant attendance was about a third lower than the usual 50,000, but the artists were "overwhelmed" by the support the community showed them, and the organizers were "delighted with everything," said co-chair Alicia Quinn.
It was Quinn who on Friday the 13th a year ago looked up from her post at the art fair to see Vero's chief of police and a second officer walking purposefully toward the tented information booth of the Vero Beach Art Club.
The volunteer organizers of the four-day event, preparing for its 69th year, had just the day before gotten a green light for 200 or so artists from around the country to begin unloading their vans to set up their artworks.
That Friday, though, Chief David Currey delivered the bad news: The first few thousand attendees were allowed to stay the rest of the day, strolling past the booths along the shady pathways of Riverside Park. But that was it.
The next day, disappointed artists would pack up their paintings and pottery, check out of hotels – the fair generates a significant sum for the county economy – and head home to their own lockdowns across the country.
Meanwhile, northwest of Vero Beach city limits at the county fairgrounds, workers were running through final checks for opening night of the nine-day Firefighters Fair, starting up the Ferris wheel and lining up the bumper cars when Fire Captain Wayne Howard got the word from the county: What would have been the event's 40th year was canceled before it ever began.
"All this work, all for nothing," muttered one worker as crews broke down the rides they had just assembled.
"We were blindsided," said Howard. "It's difficult to tell exactly the impact financially. There were sponsorships we had to give back because people weren't able to showcase their products. And we had a lot of stuff that we only got partial money returned. Light trees, tents, tables, chairs, we paid on a prorated basis. But in some cases, we were charged for rentals we didn't use, when people didn't pick up [their rental items] until Wednesday of the next week."
Howard said the angst of the lost money was nothing compared to the stress of fire-rescue staffing during the pandemic. But it was frustrating when debt relief grants turned out to apply only to events from April 2020 on. "I heard that and thought, 'You've got to be kidding me.'"
"You can buy weather insurance [for the fair], but cancellation insurance based on a national emergency – that's a tough one," said Howard.
At Riverside Theatre, the hit musical "La Cage Aux Folles" was only four nights into a three-week run when the curtain came down. The play, which cost hundreds of thousands of dollars to stage, was the fourth production of the season, out of six that were planned.
For theater management, it was no small decision to go dark for the rest of the season. Somehow they would have to assuage ticket holders and sort out canceled housing and contractual agreements with out-of-town professional actors, musicians and designers. And never mind breaking down and tossing out the "La Cage Aux Folles" set, built at Riverside, used for only a quarter of the show's intended run.
"The virus was devastating to all large gathering places and while some businesses are opening up, live performance venues are still at the crawling stage," said Oscar Sales, director of marketing for Riverside, Vero's only professional theater.
While revenue is "way down" at Riverside, according to Sales, the canceled performances did mean fewer expenses, too. And the theater has continued its outdoor dance parties, called Live in the Loop, and through most of the pandemic, it has been holding its popular Comedy Zone after thinning out the seating by half in order to maintain social distancing.
"People coming and buying tickets and food keeps the energy going and some revenue coming in," said Sales.
The theater is hoping to receive another federal grant as it did from the first CARES Act funding, and also has the backing of a devoted fan base, with donations ranging from $5 to the tens of thousands coming in.
"We're tremendously touched by the folks that want this theater to continue and thrive in this community," Sales said. "Because of that, we've not had to let anyone go."
The theater's main stage will remain dark this year, too, but Sales said the production team is building sets and designing the shows for the 2022 season, which will open in January 2022 and run through May instead of April. The push for those ticket sales will start this summer, he said.
Riverside Park's other big-league cultural institution, the Vero Beach Museum of Art, closed immediately following the governor's stay-at-home order April 1. A COVID-19 taskforce was formed, which called on Cleveland Clinic Indian River Hospital officials to advise on social distancing protocols and sanitizing procedures, and later, on re-opening strategy.
"We wanted to ensure complete confidence in the measures set forth when we did reopen our doors to the public in early October," Brady Roberts, the museum's executive director, said through a spokesperson.
From April to October, the museum switched to virtual programming, as Riverside Theatre did with its children's classes, offering streaming courses and art classes, and suggested films to view online on its website.
Museum educators gave virtual tours via Zoom for kids from the Boys and Girls Club and Gifford Youth Achievement Center. They also came up with an idea they will likely stick with once the pandemic is in the past – providing students and their families with home art kits that Roberts said have been "a huge success."
At the same time, workers made the most of the downtime to renovate the museum atrium, turning the space from multi-level to one level.
Though the museum's education wing, library, cafe and the ArtZone area for children remain closed, its galleries reopened to the public on Oct. 7. The current exhibit, The Poetry of Nature, has "seen a steady return of visitors," said Roberts, who hopes the museum will see "a return to our normal vitality," as more people are vaccinated.
That vitality includes – by necessity – rigorous fundraising. When the museum closed its doors, it had just finished tallying up proceeds from its three biggest fundraisers, including its annual Art in Bloom, one of the last social events before the shutdown was announced.
This year, the museum gala at the end of January drew only a few dozen in-person partiers; the rest picked up take-out dinners from caterer Liz Kennedy and watched the opera concert going on at the museum on their home devices.
By February, things were picking up: There was a full house at Fashion Meets Art, with chairs socially distanced in the Great Hall. And this year's Art in Bloom event was another hybrid, with a sizable crowd showing up for the in-person luncheon.
Among the island's private art dealers, Meghan Candler Gallery reports artists not only became more prolific in lockdown but also figured out how to sell their work virtually. "The art flow has never been better," said Candler. "That's the one real upside. I've had great selections to choose from."
But not all artists were feeling productive. Those whose inspiration is driven by demand were frustrated as sales slowed in Vero's downtown arts district. The contrast was stark when, after unusually strong sales of artwork in fall 2019 and early 2020, walk-in sales went to zero in many galleries, said Lila Blakeslee, a long-time co-owner and artist at Gallery 14. "We were on cloud nine and then boom!" she said.
That month's gallery stroll had already taken place when lockdown started in March. The April and May strolls were canceled. Then in June, the galleries decided to give it a try again, but it was a rainout. And by July, COVID cases were spiking again.
"We tried to open in July for just those three hours [of the stroll]," said Blakeslee. But only three out of 18 usual artists agreed to be present. "The artists were terrified to be there."
Finally, in October, Gallery 14 opened part time, then went to five days a week in November. But it wasn't until February that sales began to pick up again, with about 100 people coming through at the most recent stroll.
At the same time, the art district is losing its second gallery since the pandemic began. Flametree Clay Gallery decided to close its doors at the end of this month. Tiger Lily, a studio and gallery that was the one of the first to help forge the art district some 15 years ago, closed earlier, for reasons not related to COVID-19.
"It's still scary out there," said Blakeslee. "We just want people to get out and shop again."
An increased level of comfort also is needed to make up lost revenue at the Vero Beach Book Center, which saw its loyal following turn to online purchases during lockdown and has yet to see a full return to normal.
While galleries wait for people to buy art again, the Vero Beach Book Center is waiting not just for customers to get comfortable shopping again, but for authors to resume going on tour.
Tom Leonard, whose family has owned the Book Center for 46 years, said authors aren't having their books published because they can't promote them. "And there just aren't a whole lot of new books that are of a genre that we can locally promote."
Prior to lockdown, in early March last year, the store hosted Fox News anchor Martha MacCallum promoting her new book about World War II. It was a full house and the Book Center sold 400 copies of her book.
The store closed March 20 for a month and a half. For a time, they set up a table outside the front door, effectively blocking the entrance while handling curbside pickup. But Leonard said the battle wasn't worth it: Customers shoved past the table to get inside to the bookshelves. "It was getting out of hand," he said.
The store did some sales via telephone orders, shipping them to local addresses so people wouldn't have to come in.
In August, when the store staged a virtual event via Zoom for two of its rock star writers – Carl Haissen and James Patterson – they sold only 20 books, even though 200 viewers tuned in.
"Those writers are about as good as you can get and it still didn't bring in sales," said Leonard. "They all went to Amazon."
 Leonard said time will tell whether those loyal in-person customers who went online will now return to their former habit of prowling the aisles of the Vero institution. 
"A lot of folks in town are still concerned about coming into places until we get these vaccinations done," he said.
Along with plays, lectures, art openings, concerts and the bookstore, COVID-19 shut down another key calendar filler in the social scene – fundraising events. And it wasn't just the gala-goers who suffered.
Local nonprofits were faced with the challenge of meeting increasing needs fueled by pandemic job losses and health problems with diminishing funds. Early on, there was fear some of the groups providing essential support services would have to close their doors, leaving people in distress no place to turn.
"It is important to remember that in a good year, a large majority of our local nonprofit charitable organizations are in rather fragile financial positions," said Jeff Pickering, CEO of the Indian River Community Foundation. Most have less than 12 months of savings on their balance sheets, Pickering said.
"So, in a good year, it's stressful. In a bad year, it could be potentially catastrophic for an organization's ongoing operations and long-term viability."
Despite the stress, Pickering gives the nonprofit sector here an A+ for its ability to manage through an unprecedented crisis and meet increased demands.
"A crisis is one thing, but the duration of this one has been one of the bigger challenges," he said. "This town is accustomed to having a bit of an ebb and flow with the seasonality, and not only do we have increased demand that began last season, but it just didn't stop."
Pickering credits hurricanes with having created a nimble and flexible nonprofit community. "We're a salty crew – a little bit more battle-tested."
Help that enabled the nonprofits to stay open came from various sources. Donors stepped up with extra funds and CARES Act funding kicked in from the county's allotment. And the county's United Way dispersed much-needed assistance through the COVID-19 Community Response Fund, created specifically to support local nonprofits.
For the first several months of the pandemic, nonprofits focused on meeting common community needs, even as the landscape of need changed overnight, with more and more people requiring assistance with food, housing, medical care, employment, childcare and virtual education.
"Our funded partners had to rethink fundraising and be innovative in the ways they fundraise," explained Meredith Egan, CEO of the local United Way. Hitting Vero at the peak of benefit galas and luncheons, the pandemic put a sudden halt to events nonprofits depend on to raise funds. New ways had to be developed to keep people's pocketbooks open while having some sense of shared celebration.
When COVID-19 numbers were surging, not even the beach could tempt people out into the fresh air and sunshine. April, August and December had record-low attendance, according to figures from the Vero Beach Lifeguard Association.
The pandemic posed problems for pet-lovers, too. Along with canceling its two biggest fundraisers, the local Humane Society, forced to limit staff in the facility, had to clear out the shelter by placing animals in foster homes. The population of shelter dogs and cats dropped from 190 to less than 30, with dozens of families coming forward to foster them, according to Kate Meghji, the Humane Society's executive director.
As for tourism, island hotels kept their heads above water thanks to guests who came for longer stays, traveled in large groups, or came to look at real estate, a segment that soared during the pandemic, with every major island brokerage breaking multiple sales records.
Canadian and European travelers and retirees remain noticeably absent, but a younger group of professionals visiting the area to purchase homes has stepped in to fill that void, hoteliers said.
Kevin Given, managing partner at Quail Valley Club, said the club's 25 rooms available to guests of members, including at its Royal Palm Pointe location, saw bookings at or above normal after an initial lull.
"We had everything cancel last March, April and May," he said. That resulted in a loss of just under a half-million dollars, according to Given, but he said that revenue, has since "come back."
Given said in 70 percent of the club's bookings, guests are staying a week or more rather than the customary short visits.
"With Florida being technically open, they've got a little more freedom here. Guests are opting to work remotely instead of flying back and forth, staying to enjoy the recreation and sunshine," said Given.
Vero Beach Hotel and Spa general manager Awet Sium said stays there are slightly longer, but guest numbers are not up to pre-COVID times.
He's hopeful that in the second and third quarters of the year, the hotel will regain some sense of normalcy. "We need to be OK with the slow recovery. The vaccine needs to roll out, and people need to be comfortable with it."
Costa d'Este Beach Resort & Spa, which taps the South Florida market for much of its success, is seeing bookings "assume some kind of normalcy," said manager Chad Olson. "I'm cautiously optimistic that our season is still going to transpire," he said.
"We're pretty fortunate here. With the increased demand, shortage of supply, and zero short-term rentals in our market, the hotels should start seeing an influx of demand. If the weather's good, the desire to travel is there."
And at the 18-room Caribbean Court, where the niche market is group stays, several destination weddings are already back on the books.