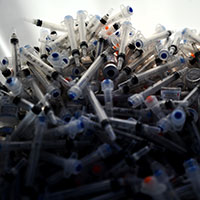 COVID-19 good news: cases down, vaccinations up
STORY BY LISA ZAHNER (Week of March 4, 2021)

Indian River County made significant progress in February as new infections continued to decline – with only 34 people a day testing positive on average this past week – and an average of 754 local residents per day receiving a COVID-19 vaccine shot last month.
Hospitalizations on Monday were lower than they've been in many months, with 17 people in the hospital with COVID-19.
In more good news, the previously lengthy wait list for vaccinations here has dwindled significantly, according to county Emergency Services Chief Tad Stone. "Our current records show less than 4,000 on the county's waiting list," Stone said. "This number continues to go down each week."
A good number of people, when called, have declined their appointments, he said. "I'm not sure of the exact reason but with the vaccine being available from a number of other sites ... I am sure it is having an impact. It's shots in arms and a lot of agencies are helping bring the numbers down."
Stone credited many organizations working in tandem with getting more than 58,000 shots administered locally.
"I am happy to report that we have reached 67 percent of the estimated 65-plus population," he said. "This could not have taken place without the drive-through operation at the fairgrounds being run by the Health Department Indian River County, Treasure Coast Community Health, Cleveland Clinic Indian River Hospital and Whole Family Health."
Gov. Ron DeSantis urged Floridians who got frustrated trying to get an appointment in February to try again with Publix or their local health department, saying demand has eased somewhat statewide.
In response to the decreased demand among seniors, DeSantis announced that teachers, sworn police officers and firefighters age 50 or older could now get vaccinated. He also loosened restrictions on who can identify and vaccinate people considered to be particularly vulnerable to COVID-19 infection due to pre-existing conditions.
Now, individual licensed doctors practicing outside of a hospital, certified nurse practitioners and licensed pharmacists can make the judgment call about vaccinating sick or at-risk people younger than 65.
For those waiting for the single-dose Johnson and Johnson-Janssen Biotech vaccine, Florida is expecting its first shipments soon, according to DeSantis.
The vaccine has been approved by the FDA and the CDC, and DeSantis said Monday he had an unconfirmed figure of 173,000 doses headed for Florida, but he did not know when the vaccine would arrive and did not say how it would be distributed.
The FDA found the Johnson and Johnson vaccine to be extremely effective at preventing death from COVID-19 complications and severe illness requiring hospitalization. Tested on more than 40,000 people in the United States, Brazil and South Africa, the new one-dose vaccine offers some protection starting at day seven after vaccination, increasing steadily with good protection at day 14 and excellent protection at day 28.
The efficacy rate for preventing infection across populations in the three countries averaged out to about 66 percent (72 percent in the United States), at the height of the pandemic surge, with virus variants circulating. No deaths or hospitalizations from COVID-19 were found after day 28 in the clinical trial group of people who got the one-dose vaccine.
DeSantis said on Monday Floridians should not to be scared off by the 66 percent efficacy rate, because the goal is preventing hospitalizations and death from COVID-19. "If you have the opportunity to get the J&J vaccine, take the J&J vaccine," he said. "That will absolutely save lives."
The newly approved vaccine is simpler to ship, store and administer than the two-dose Pfizer and Moderna vaccines. The J&J vaccine can be kept in a regular refrigerator for up to two weeks, or stored in a regular freezer for up to three months.
It comes in vials containing five .5 milliliter doses and does not need to be diluted like the Pfizer and Moderna vaccines, which means there is less chance for error. The new vaccine is better suited to be administered in doctor's offices and small clinics – a move that would help get everyone vaccinated much quicker.
The message emphasized by doctors and public health experts during the FDA's all-day panel hearings and two days of CDC hearings on the Johnson and Johnson-Janssen Biotech vaccine drove the point home: "The best vaccine is the one you can get access to."
It's not yet known where the J&J vaccine will be available in Indian River County, or when. To register for the Indian River County vaccine waiting list, go to www.ircgov.com/coronavirus and complete the form.